Another Failed Breakout Set Up?
When this many breakout set ups fail, it does leave you questioning whether a deeper retracement is in the cards before the market is primed for this rally. And, today, we had yet another breakout set up, and the market failed to capitalize. So, I am becoming very cautious now.
As I have been saying time and again, the initial confirmation for that next larger rally phase is a 5 wave moved up, followed by a corrective 3 wave pullback, with follow through over the high of the initial 5 wave move up. Yet, we have not had a single confirmation yet in the IWM/TF. Rather, the market continues to consolidate and potentially taking more time in setting up the next rally phase.
What it comes down to is that until we see a micro impulsive move higher, that can pullback correctively and then be exceeded by the next move higher, we have no initial signal that the market is breaking out. This still leaves the market vulnerable to further pullbacks, as I have noted in my updates many times.
So, if it sounds like I am running out of patience, well . . I will say that I am probably just as frustrated with this market action as you are right now. But, until the market tells us that the bullish set up is dead, we have to maintain a bit more patience, even if we see further downside in the near term. My upside triggers – since the Russell is providing the best signals so far – is a strong move over last night's high of 1260TF, followed by a take out of this week's high on IWM at 126.91. That is what would confirm the heart of the 3rd wave taking us to 132 next main target.
And, in the cash market, as long as yesterday's low in the IWM holds, then we have a set up to break out to 130 next. Below that level we can test deeper into the blue box. Meanwhile, the MACD is resetting itself nicely into our target region for this pullback.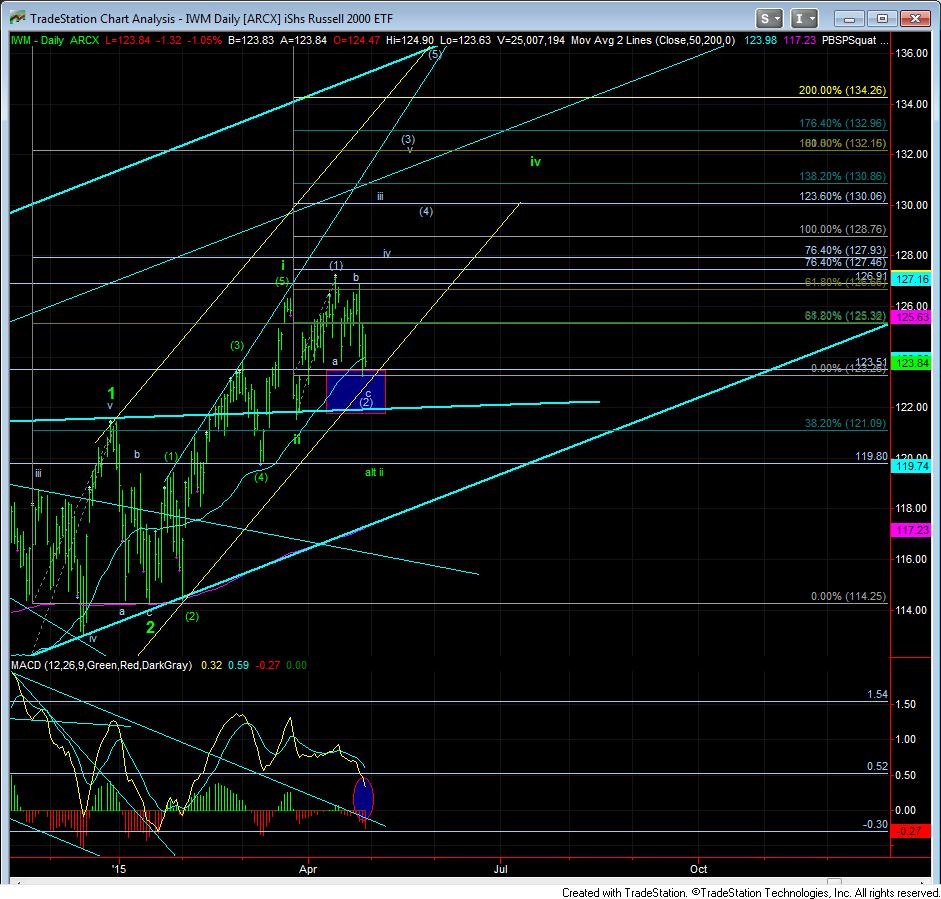 IWM