Market Analysis for Jan 5th, 2022
I want to zoom out a bit and add a bit more to the mix for our consideration. I am adding one more count to track, but it does not change how we approach the market. I will leave that to last, and will discuss the three paths I am tracking separately by color.
GREEN: The green count is what we have been following all this time. It suggests that wave [3] of [iii] off the early December low topped out around the 1..236 extension of waves [i] and [ii], with this being wave [4] of [iii] coming back to its standard retracement target in the .764 extension region. And, as long as we hold over the 4710SPX region, then I am looking for wave [5] of [iii] to take us up towards the 4860-4900SPX region.
YELLOW: This pattern suggests we have topped in an expanded b-wave. Since we are now getting 5 waves down off the all-time high, I do have to consider this a bit more. But, it will have to be confirmed by two ways at this time. Either we see a direct break down below 4677SPX - which I am not expecting from right here - or we bottom over it, and see a corrective bounce, and then break back down below whatever bottom we create down here.
PURPLE: This is a bit of a goldilocks scenario between the two counts above, and is one of the main reasons I had plans to raise 10% cash on the next rally. I have alluded to it at times, but I think its time to bring it to the forefront. This structure keeps the same [i][ii] as the green count, but would view the high we struck at the 1.236 extension as wave [iii] in the ending diagonal, with this being wave [iv], and providing us with overlap into wave [i] territory, which is common with diagonals. That means that the next rally would complete all of wave [3] of [iii] off the March 2020 low, just below the 4900SPX region (our original lower end target was 4882SPX), and then begin wave [4] sooner rather than later.
So, in summary, I am going to remain in the green count for as long as we hold the 4710SPX region, but we will need to see a 4th wave bounce soon. And, as long as we hold over 4677SPX, then I am expecting a big bounce one way or another. The nature of that bounce and how it takes shape will tell us how soon we need to get protective for wave [4].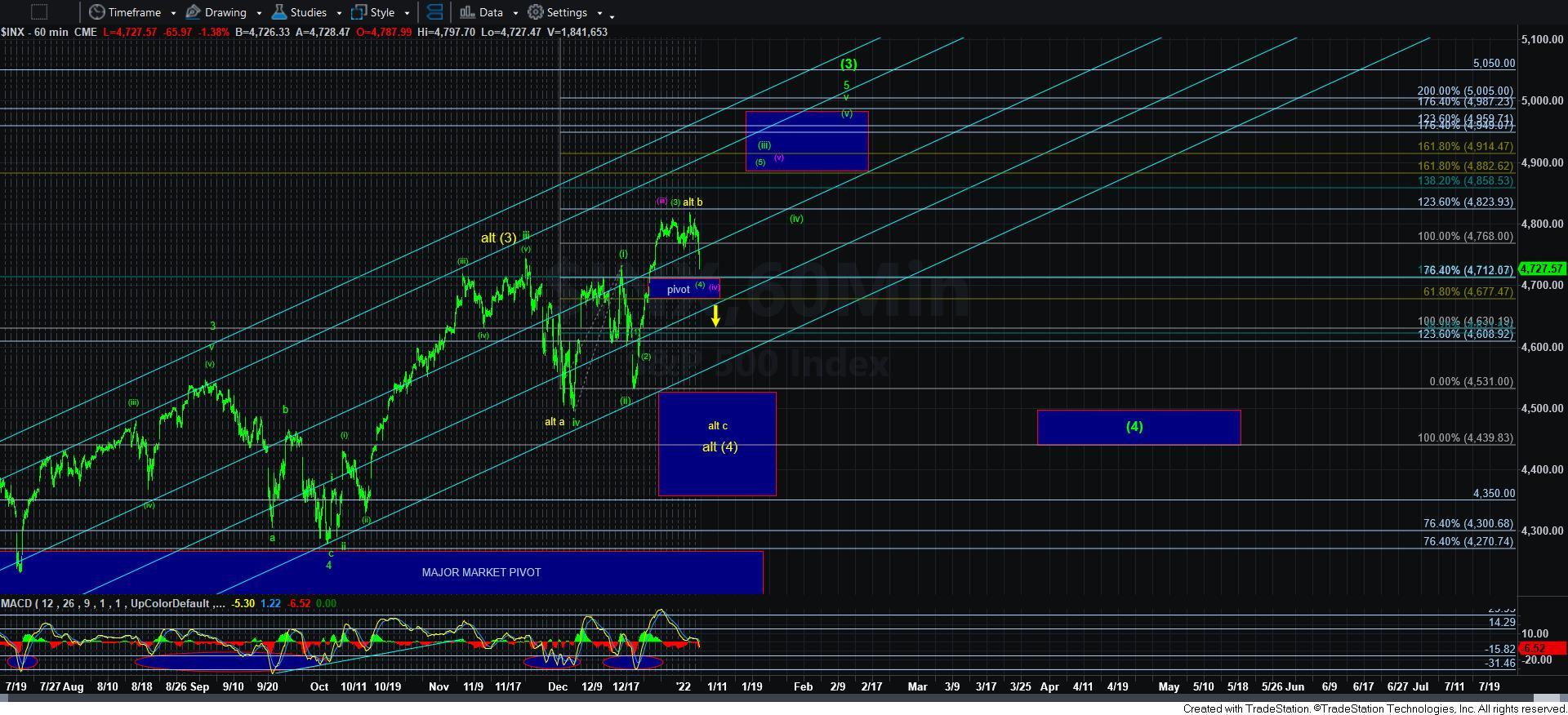 60minSPX