A Good Start - Market Analysis for May 7th, 2015
With the overnight drop in the ES, the patterns I see in the ES do vary from the SPX, with the SPX presenting much more bullishly. Since our bigger expectations are more bullishly inclined, I am going to follow the smaller degree bullish pattern until the market makes it clear that we should not.
As noted yesterday, there are clearly enough waves in place now to consider wave (2) as having completed, but we need to see confirmation that we are on our way to 2200. Today was a good start in the SPX. Off the lows from yesterday, we seem to have completed an initial 5 waves up, with the spike high seen within the opening hour completing that 5th wave off the lows. After a pullback in 3 waves, the market then provided us with another 5 wave structure which then spent the better part of the afternoon consolidating. This makes me view the potential right now as a 1-2, i-ii set up, which means that tomorrow morning "should" be a very strong market day.
Ultimately, as long as the market remains over the SPX 2080 level, we should be looking for it provide us with a full 5 waves up into the 2105-2120 region, and complete wave I of (3), as noted in the green ellipse.
In the IWM, my ideal target region for wave (1) of iii resides in the 125 region, with the same potential pattern in play as well.
However, should we see the SPX break below 2080 support, that would be an indication that the impulsive structure to the upside is falling apart, and we could very likely be heading to lower lows, and potentially the alt-b-wave target, depending upon how the decline takes shape. So, for now, without confirmation, we are not yet out of the woods. And, the real truth is that I would probably be a lot more immediately bullish if we did not have a divergence in patterns between the futures and the cash index.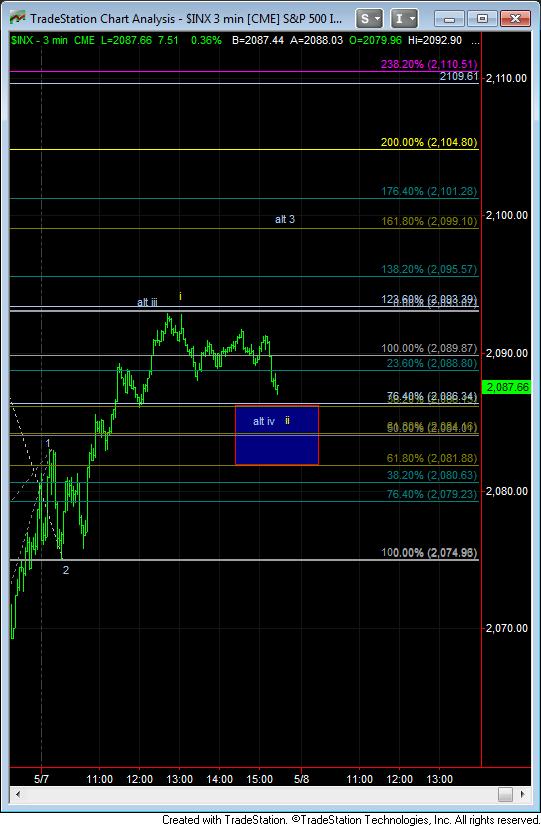 BaseCase - 3minSPX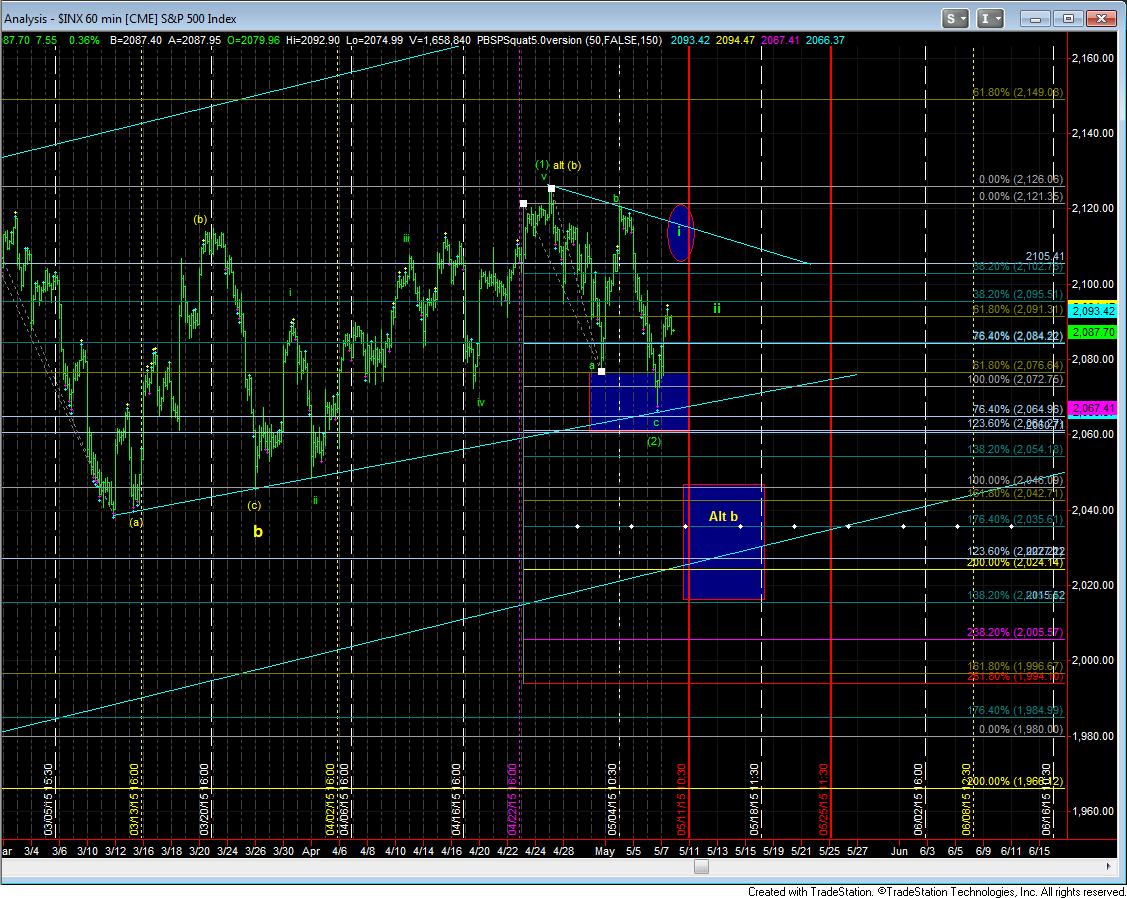 BaseCase - TurnChart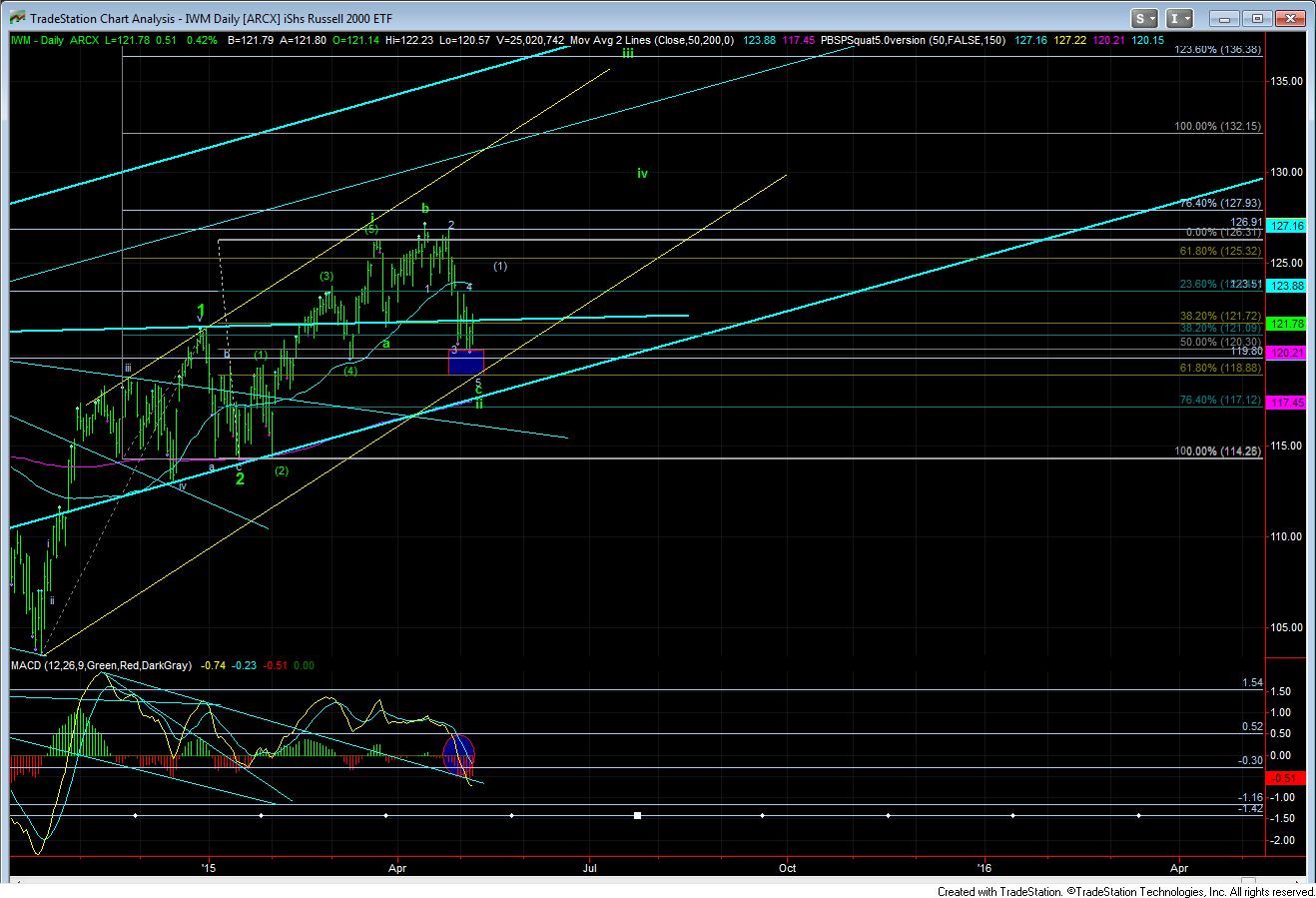 BaseCase - IWM