A Few More Thoughts This Evening
The frustration has increased many-fold, even though the market has not even made a lower low yet. And, believe me, I can clearly understand your frustration. Even though I began warning at the end of 2022 regarding my expectation for the largest correction to be seen since we bottomed in March of 2020, I clearly did not expect that we would be dropping down this low in this correction, even though I had it on the daily chart for the last 3-4 months. I genuinely expected that the 4000-4100SPX region was going to be the max we would see.
But, that still does not change my inability to be able to count the market as completed in its bull market structure. I can only count 3-waves up into the highs we struck just north of 4800SPX. And, that does not provide me with a high probability top to this market. For that reason, I am still very much in the "higher-high" camp, despite almost no one believing that is a possibility in this current environment.
I have been through these cycles before, and I have called for similar types of moves despite the masses not seeing any way that my expectations are even possible. And, the significant majority of the times I have done so, we have been proven right in the end. Will it be the case this time as well? I cannot tell you for certain, as I can't always be perfect. But, I do have to abide by the analysis methodology that has kept us on the correct side of those expectations many, many times throughout the years despite the public skepticism.
In the meantime, the market has pushed below the ideal support I outlined for my expectation for a pullback in a potential wave [ii] today. I have been questioning whether the recent rally that I expected off the 3860SPX support last week was a c-wave of wave iv in yellow (in a big ending diagonal for the 5th wave of a c-wave of this 4th wave), of it we have indeed bottomed in wave [4], with that being the wave [i] up off the lows.
Due to the depth of the pullback, I am having a hard time accepting the green count right now. While it is still very much alive, I have to say that the bulls are going to have a hard time proving it to me. As I noted before, I am still maintaining that last tranche of hedges as long as we remain below yesterday's high. But, if the bulls are going to make a statement, they have to start tomorrow by starting an impulsive rally through 4025SPX (which has been moved up 10 points from my earlier analysis), and represents the .618 retracement of this drop today.
You see, if the bulls are really going to take control, and this is a wave [ii] pullback, then we should be targeting the .618 extension of waves [i][ii] for wave [1] of [iii], which is in the 4050/55SPX region. And, that has to be a clear 5-wave structure up to that region to make that a more likely outcome in the coming days.
Anything less than that is pointing only to the 3980-4025SPX region for a potential b-wave rally in yellow, which will then point us down to our next target below in the 3767SPX region, which clearly was not even close to my preferred path many months ago.
But, at the end of the day, I still have a hard time seeing that this bull market has ended, as we have no completed 5-wave top in place. Even the high itself was struck on a smaller degree 3-wave structure, and that is not how a bull market ends, as least not based upon probabilities. Of course, I and others can force a count which suggests that the bull market has ended. But, I simply cannot accept a forced count as I do not believe it to be intellectually honest.
Moreover, the sentiment readings we have all seen have gone down to points at which they almost cannot go any lower. The spread between bulls and bears have increased to historic proportions, we have seen sentiment indications that are at the levels seen at the bottom in March of 2020, with many more sentiment indicators are supporting the same. Yet, without price providing us with confirmation, we still do not have a strong indication that the market is ready to rally in the opposite direction.
So, for now, I am going to remain protective, especially if the market is unable to move back through the Danger Zone box I have on the 5-minute SPX with a top end in the 4025SPX region. And, for the bulls to make a strong comeback, they will need to take us up to the 4050SPX region in a CLEAR 5-wave rally to suggest that we are developing a [i][ii][1][2] break out structure. Until that happens, I will remain protective.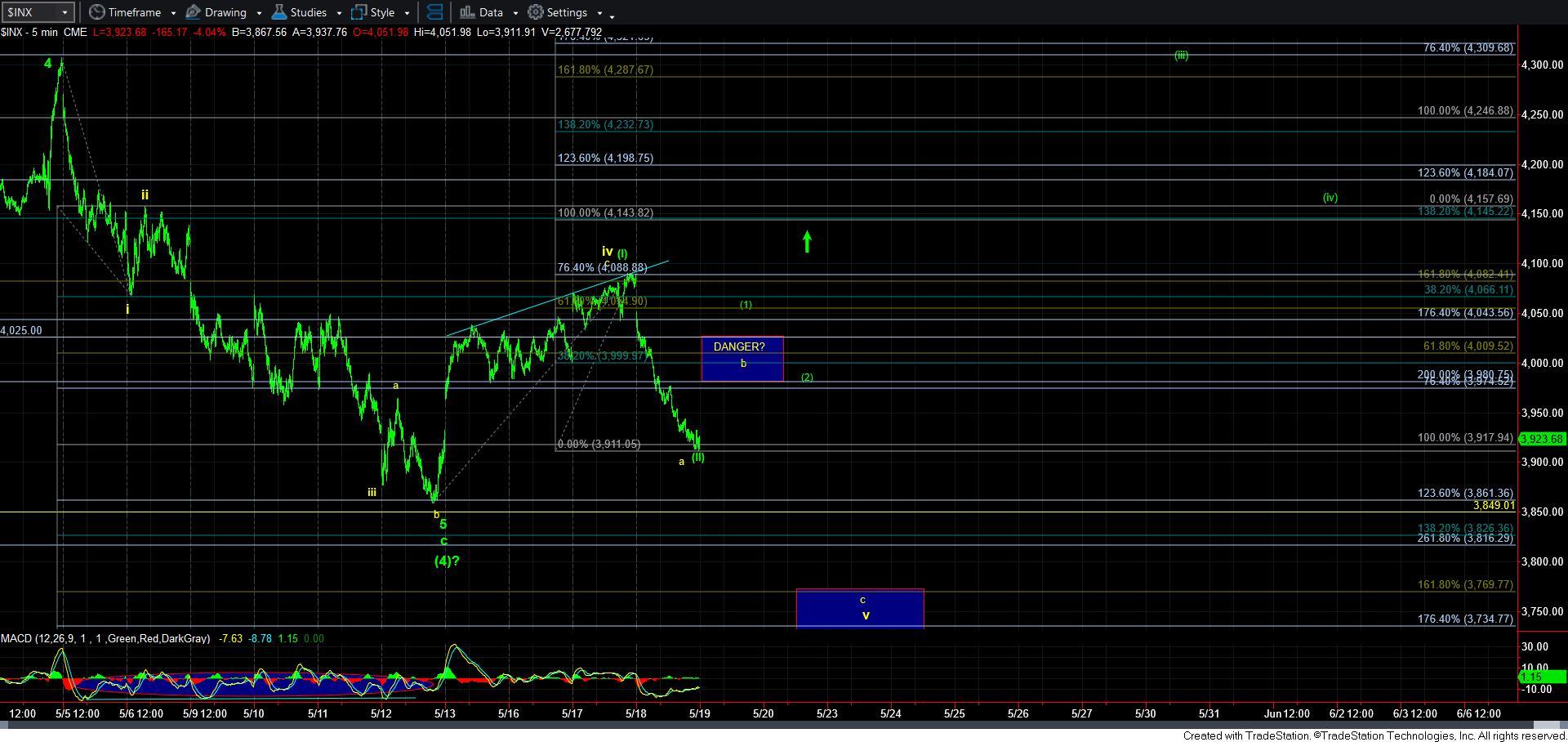 5minSPX