As the title noted, 4th waves are not easy, nor are they meant to be. They normally separate traders from the profit they earned during the preceding 3rd wave, and they do so through much whipsaw and directional changes.
So, rather than allow the market to do this to you, I have warned many times that cash preservation should remain as your primary perspective during this turbulent action. And, until we see another pullback or a better opportunity, I am still suggesting most of you focus on cash preservation in the short term.
Today, the market began in such a way that suggested we would begin the [b] wave pullback I have been expecting once this [a] wave completes. But, as I warned yesterday afternoon:
It is not uncommon to see these [a] waves off the lows extend beyond standard targets purely because the market has been so oversold, and many are still trying to short this market. That is why I am going to allow the market to provide me with at least an initial signal – a break of 2565SPX – before I can view the [a] wave as having completed. And, as I noted during this past week, a break of 2520SPX confirms that we are in an a-wave down of the [b] wave retrace I am expecting.
Yet, despite the market spiking just below 2565SPX, it rallied back up through micro resistance. And, as it stands now at the time of my writing this update, as long as it holds that low we struck today, it can easily extend towards the 2625-40SPX region overhead.
So, I am going to take a step back, and focus on the forest rather than focusing on the leaves. In the bigger perspective, nothing has really changed. My primary perspective is that the market is completing an [a] wave rally off the December lows, and should provide us with a [b] wave pullback in a standard a-b-c structure, for the larger degree b-wave I have on my chart, with a minimum target of 2800SPX.
At this time, I still have no clear confirmation that this [a] wave has completed and the expected [b] wave pullback has begun. And, I believe that the expected [b] wave pullback will likely be a buying opportunity to ride the rally towards the 2800SPX region, as long as we remain over the 2400SPX region. That is the next opportunity I see in the overall market structure I am following.
60minSPX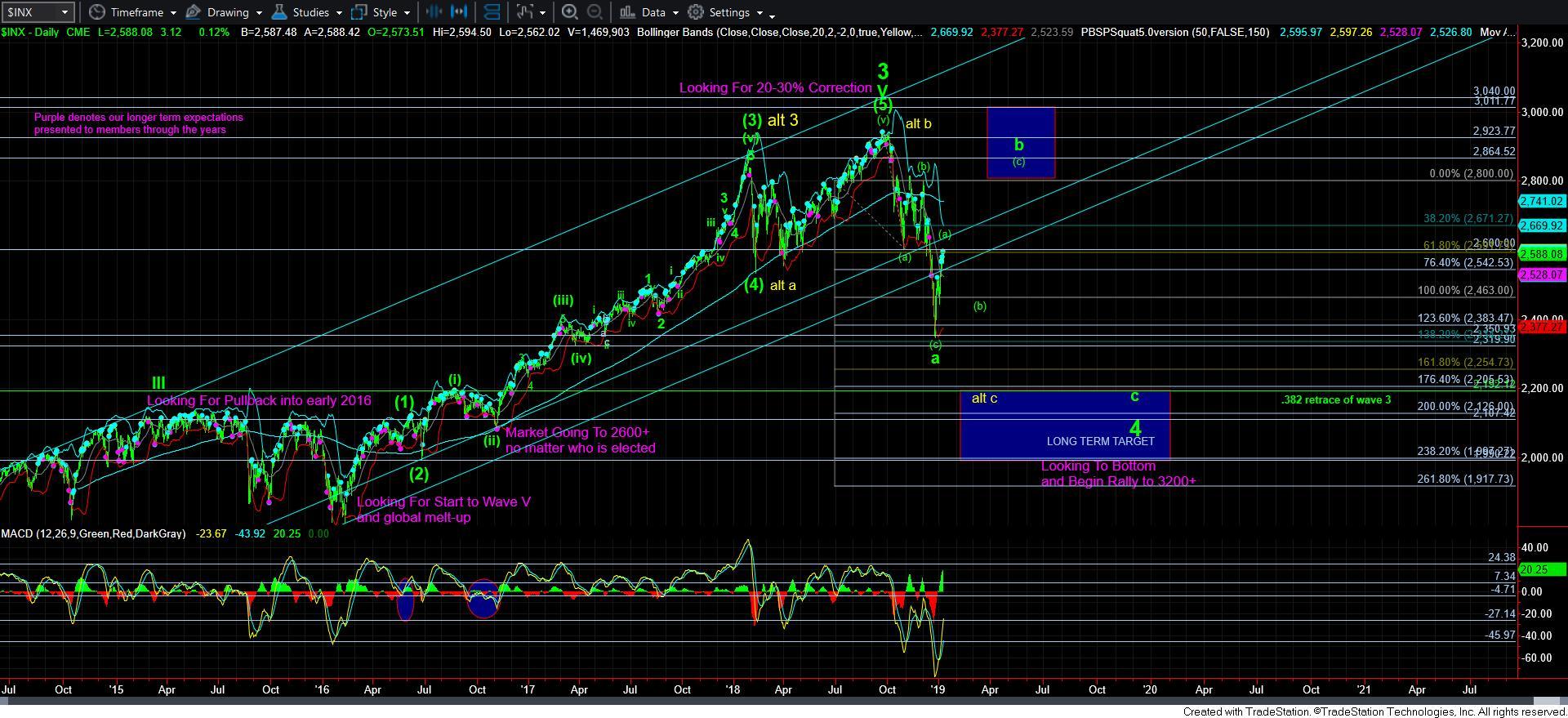 1SPXdaily