Time for the Crypto Lunar Rocket to Launch?
Over the last few months I have released a couple articles suggesting a potential bottom was in for the crypto market. Unfortunately support levels that I called out did not hold, so I had to look lower.
I am writing anew having seen a very bullish pattern off the recent lows struck on April 1. Currently, most of the coins we track have the "impulsive five," a pattern we look for to indicate a bottom. These patterns so far are more bullish in structure than previous patterns seen since January. Furthermore, these structures, as measured in Fibonacci levels, are higher than before. This is promising.
Yet, as usual, we must watch supports and move them higher with the market to watch for indication of a false rally.
As of this writing, most of those coins are in consolidation off recent micro highs, and they appear to be setting up for continuation. Some coins are in the next degree wave 2 down. Some are in wave 4, needing to go one wave higher to complete the first degree impulse.
I'm now providing biweekly commentary on the crypto market for the Korelin report. Price action was bullish enough on April 30 for me to suggest a bottom was likely. I sounded a little excited that day and for good reason.
As is typical when we have a potential bullish reversal, I like to check in with our bellwethers: Litecoin, Bitcoin, and Ethereum.
I also want to take a look at Ripple. Previously, I had been looking for any high degree rally in Ripple to be a B wave rally, reserving a major bottom in wave 4 for after a large degree C wave down. However, we now have a five-wave impulse pattern in Ripple off the bottom, so it is reasonable to believe the major rally toward new all time highs in Ripple has also started.
In fact, we have an impulse in quite a few coins for which I've expected B wave rallies. These include OMG, REP, and NXT, to name just a few. This is more promising evidence that a major low is in.
Ethereum is the most clearly bullish of our bellwethers. It put in a very deep correction that forced a review of my long-term count. This indicates that sentiment reached extreme negative levels. And now it has a very clear impulse off the bottom, retracing nearly .618 of the height of the correction.
Off the April 1 lows, we either have a five-wave impulse complete or need one more high as per the red count on my chart. White is my preference, and that means we had a very shallow wave 2, and are now in circle 1 of wave 3, targeting new highs. White is valid as long as $604 is not breached, and the pattern can be called bullish as long as $495 holds.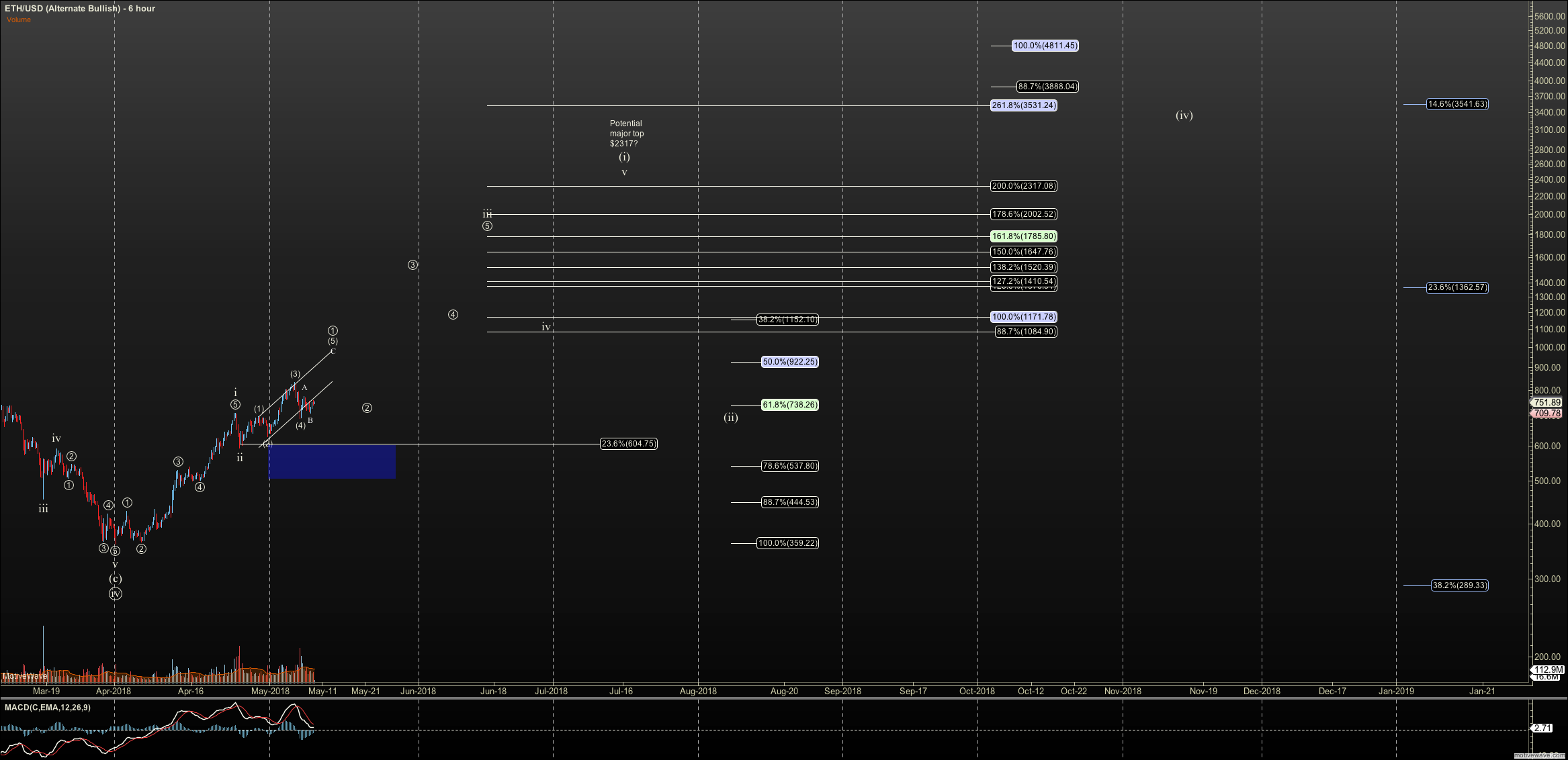 I view Litecoin in two ways: I have been tracking a triangle pattern off the February lows, since we don't have enough waves to really suggest that the C wave of the wave iv correction is completed. However, since we have five waves off the April 1 lows, which is not the structure we expect for a D wave, we may have something more bullish. This means the C wave could have been truncated and we are already in our expected climb to over $1000. I have posted both views below.
Litecoin Triangle: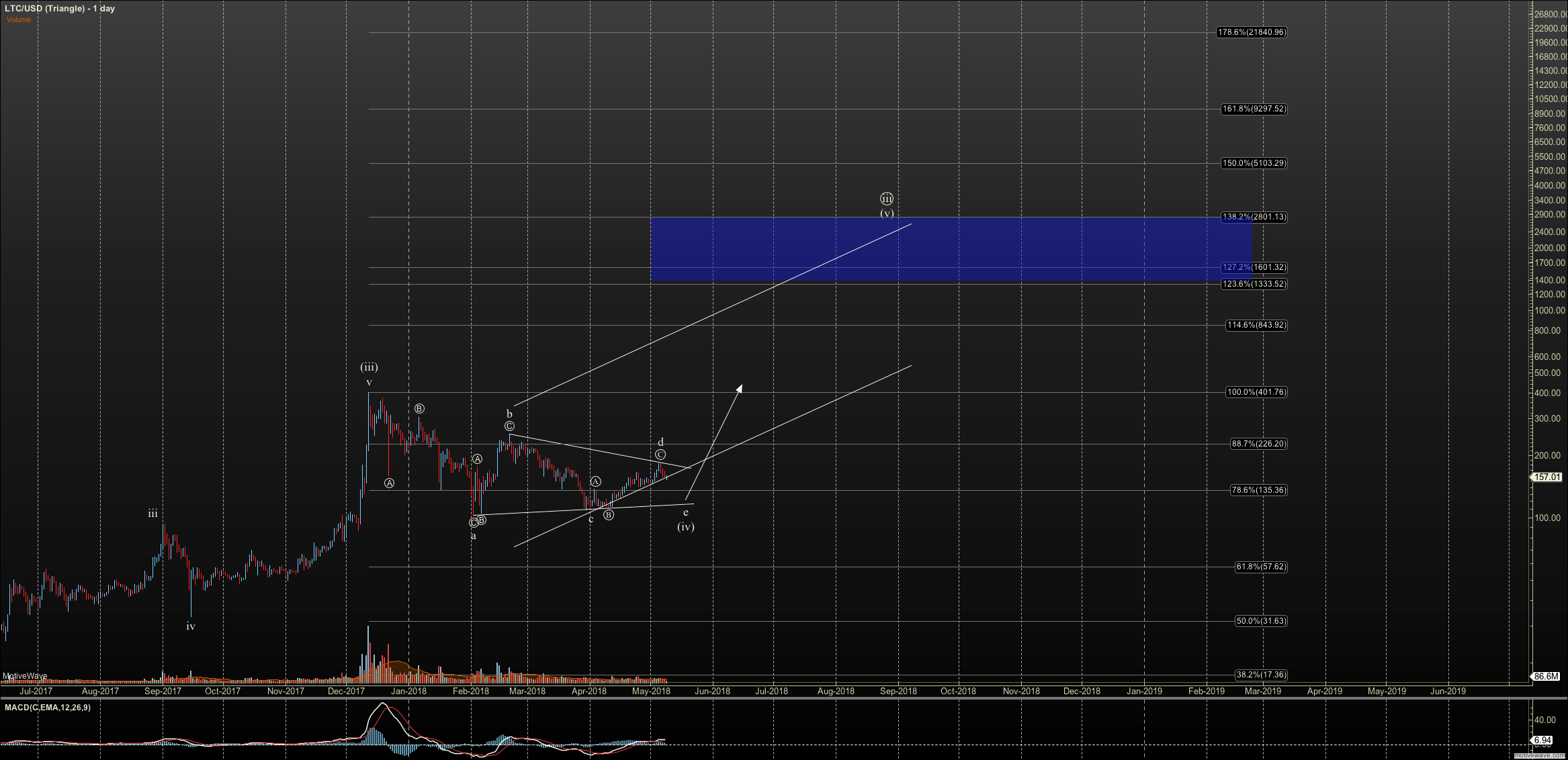 Litecoin with a Truncated C wave:
Bitcoin also has the potential to build a triangle. It has a five-wave pattern, but since I'm looking for this rally to be c of B, it still fits in Bitcoin's triangle. Another pattern works well, and that is the leading diagonal I posted in a previous article. This will become my primary view if we breach $16,000 from here. Both views are posted below.
Bitcoin Triangle Count: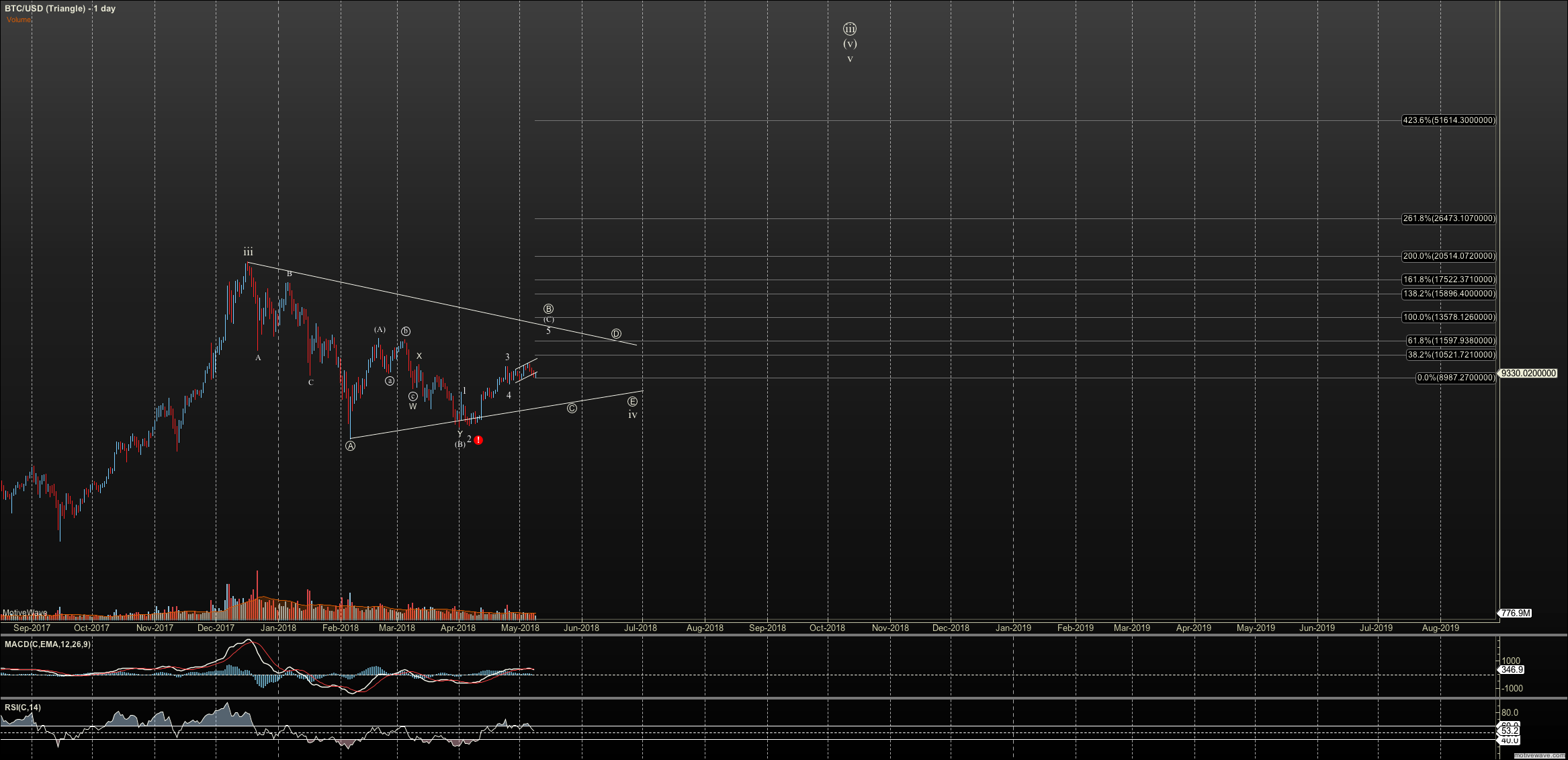 Bitcoin Leading Diagonal: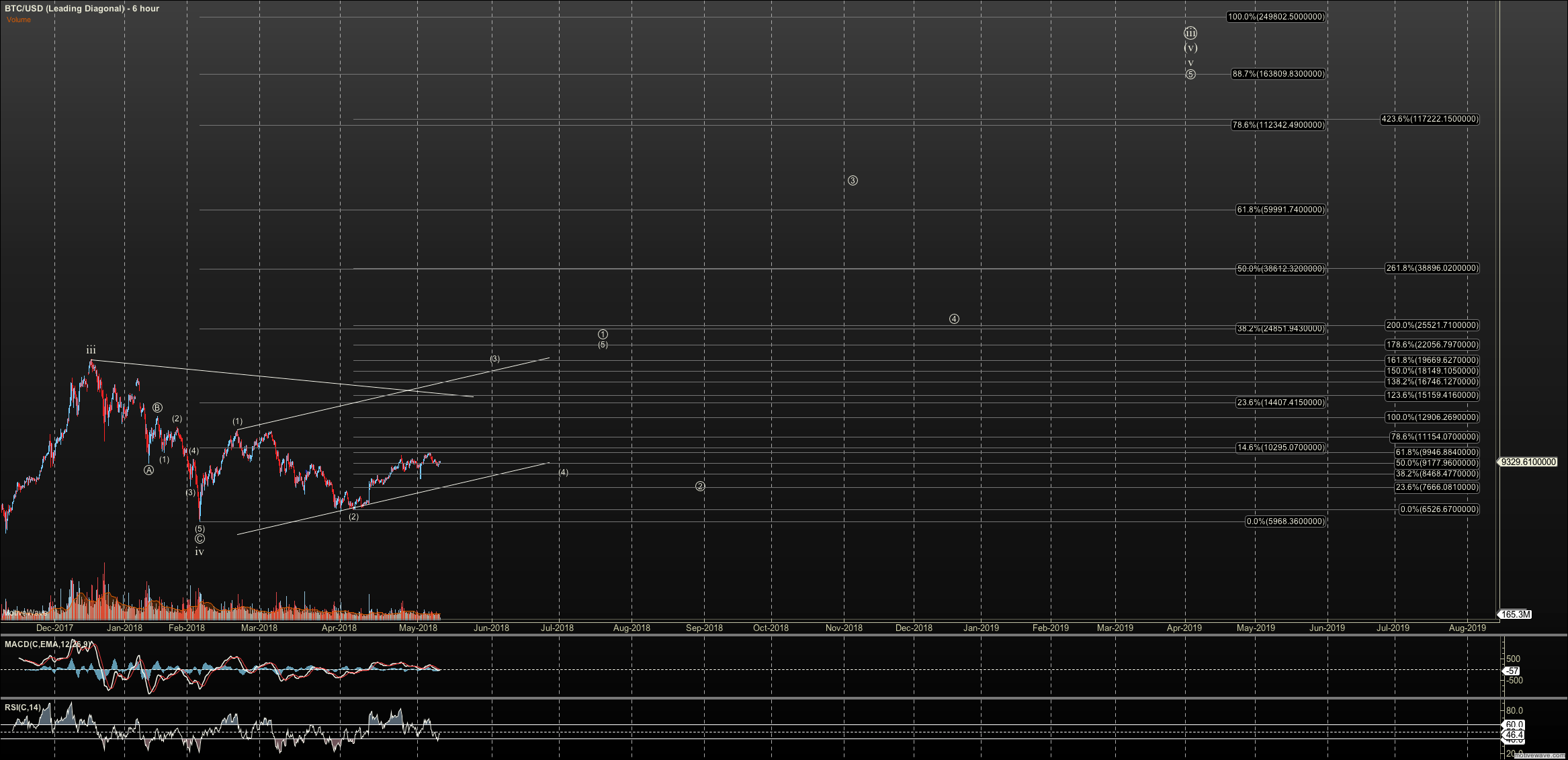 Now, let's look at Ripple. If you recall from past articles, you know that I was looking for a B wave top. Yet, again, with a five-wave rally, I am looking higher. I'd like to see 60 cents to hold here, which gives me a target northward of $3.00 in the next degree. I'll move supports as we go, and I see the potential for Ripple to continue a major rally over $10 before the next major correction.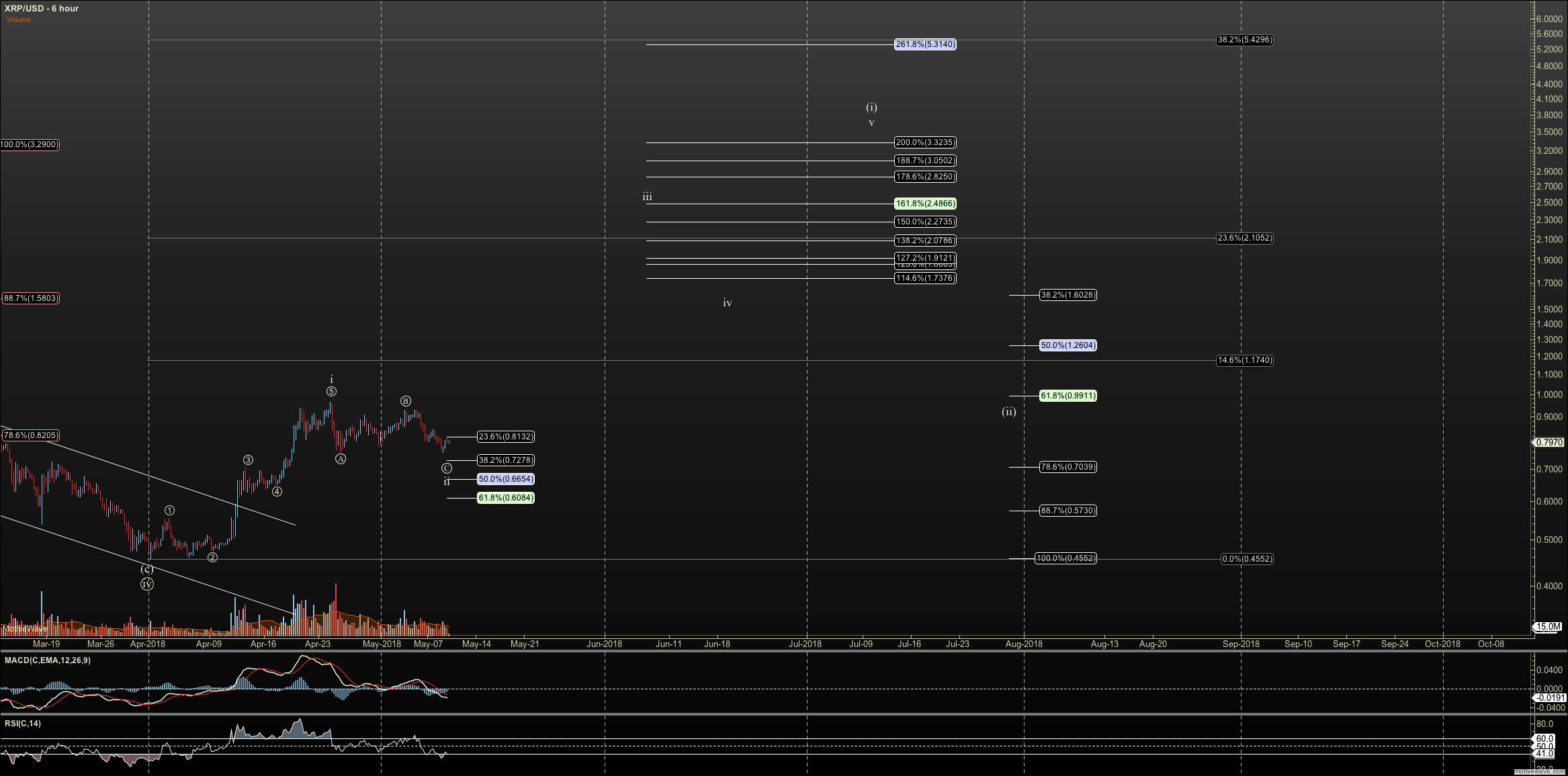 While I consider the bellwethers an important indication of the future: we are also tracking major bottoms in most of the small-cap coins, which are much higher in beta (realized volatility) so can provide more reward for more risk. Some of our favorites include Bitshares (BTS), Steem (STEEM), Lunyr (LUN), and EMC2 (EMC2). None of these "picks" are based on the project potential or fundamentals, but on Elliott Wave analysis, and I have posted targets for these and over a dozen other favorite small caps in my trading room on Elliott Wave Trader.
Whether we are seeing the bottom or will see new lows, I do believe the next rally in the crypto market will be a sight to behold. "Moon Count" has become vernacular in the Elliott Wave trading room, indicating future expected price levels. Regardless, markets are markets, with a certain level of unpredictability. Whether our lunar rocket is ready to launch or not, we have to watch supportive price levels and move them up with the market if we want to see early warnings that this rally will fail. Also, in order to manage risk, we have to map key price levels in order to take profit and not suffer in any early failure. This also gives us the opportunity to catch the natural retraces in an unfolding rally. No rocket goes straight up.