I'm an intermediate Ether bear. Right now, sticking to present tense, we have five down off the September high and have a sideways moving bear flag. It's a very orthodox bear setup as a 1-2, or A-B. What will get get me bullish in ETH? I am asking this question simply because we just had a nano bearish setup invalidate. Note 'nano' not 'intermediate'. This necessitates that bearish scalpers take cover. It doesn't mean long termers should run to go long YET. Do we have a case of the gummi bears in Ether?
The best tool I can draw from when dealing with overlapping structure is to look at channel breakouts and traditional techs. This is by far a less probable way to trade than clean EW structures, but this is what the market has given us ALL YEAR. In this situation, I'll watch for a few things:
1. Daily MACD to suggest breakout. See red line on MACD
2. Daily RSI to make a trip over 70.
3. Price action consolidating over the channel that has contained the current action I've defined as a diagonal. (red arrows)
4. Finally a break of the September high invalidating five down, would seal it, but I'd like to catch it before that occurs. I am just not willing to assume the breakout from down here in context of our bear flag. .
I'm fairly likely to attach this in more formal language to the long term report this Sunday but I want to see how action shakes out this week.
Just as a run to $56K in Bitcoin may still be a large B wave, a breakout here, may extend the B in Ether, perhaps even to $1400. But regardless if a B wave, I want to capture as much of it as possible.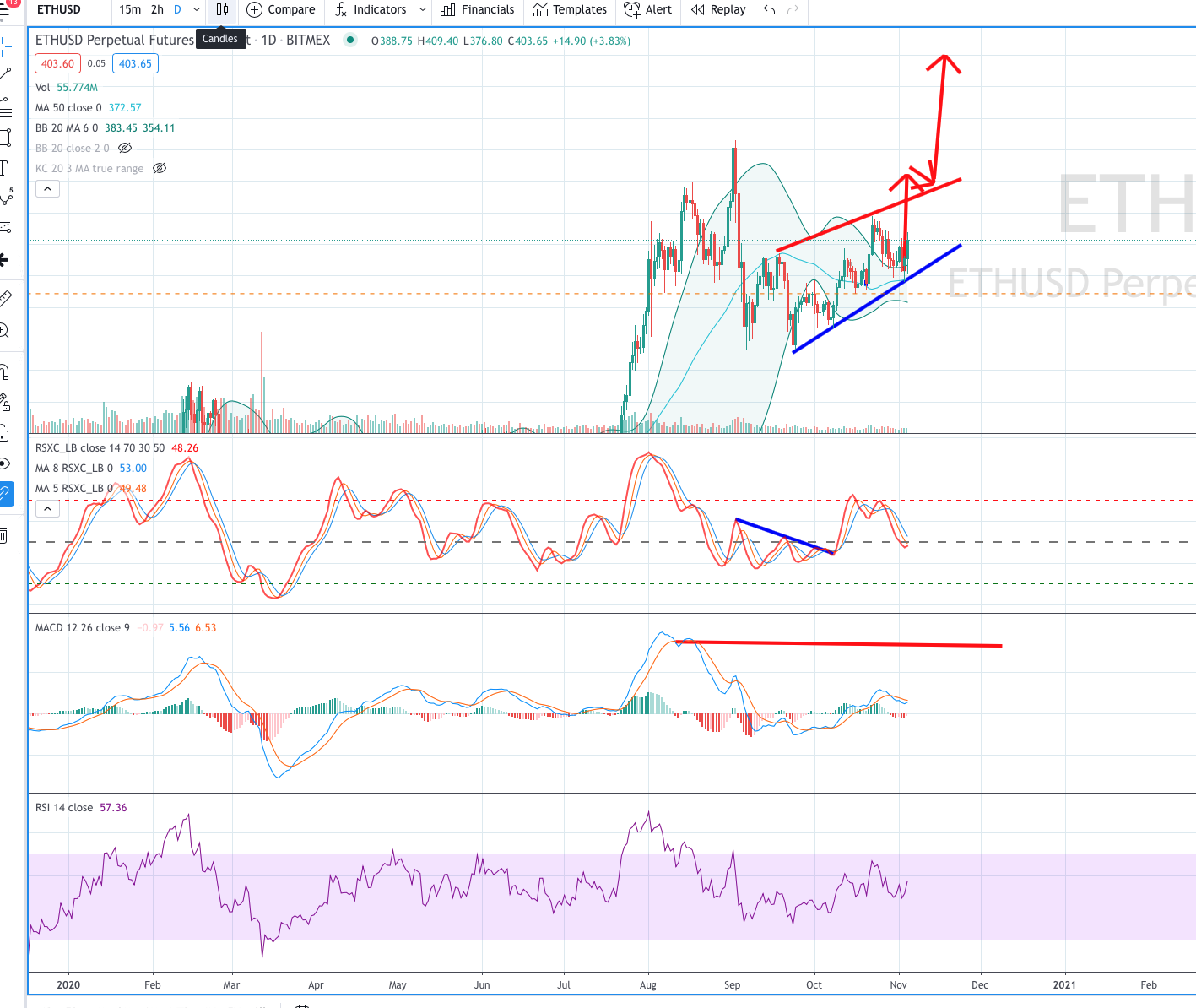 Screen Shot 2020-11-04 at 10.39.53 AM