World Markets Round-Up: Late-Week Reversal
European markets reversed lower late last week after starting the week higher. What's ahead for this week?
DAX: The DAX continued initially higher last week, coming very close to reaching the 11840 target for wave v of 5 to complete. Price has since rolled over significantly, making a new low on the month which should be enough to confirm a top in place for wave (c) of B. If so, then we're looking for a larger degree 5 down off the March high to complete as wave (1) of C. If price continues to accelerate lower to start of this week, then we can already be in wave 3 of (1), heading to 11145 – 11065 before bouncing again in wave 4. Otherwise, the alternative if immediate acceleration lower is not seen is that just wave 1 of (1) is completing here shown in red, and a near-term bounce as wave 2 can be seen before continuing lower.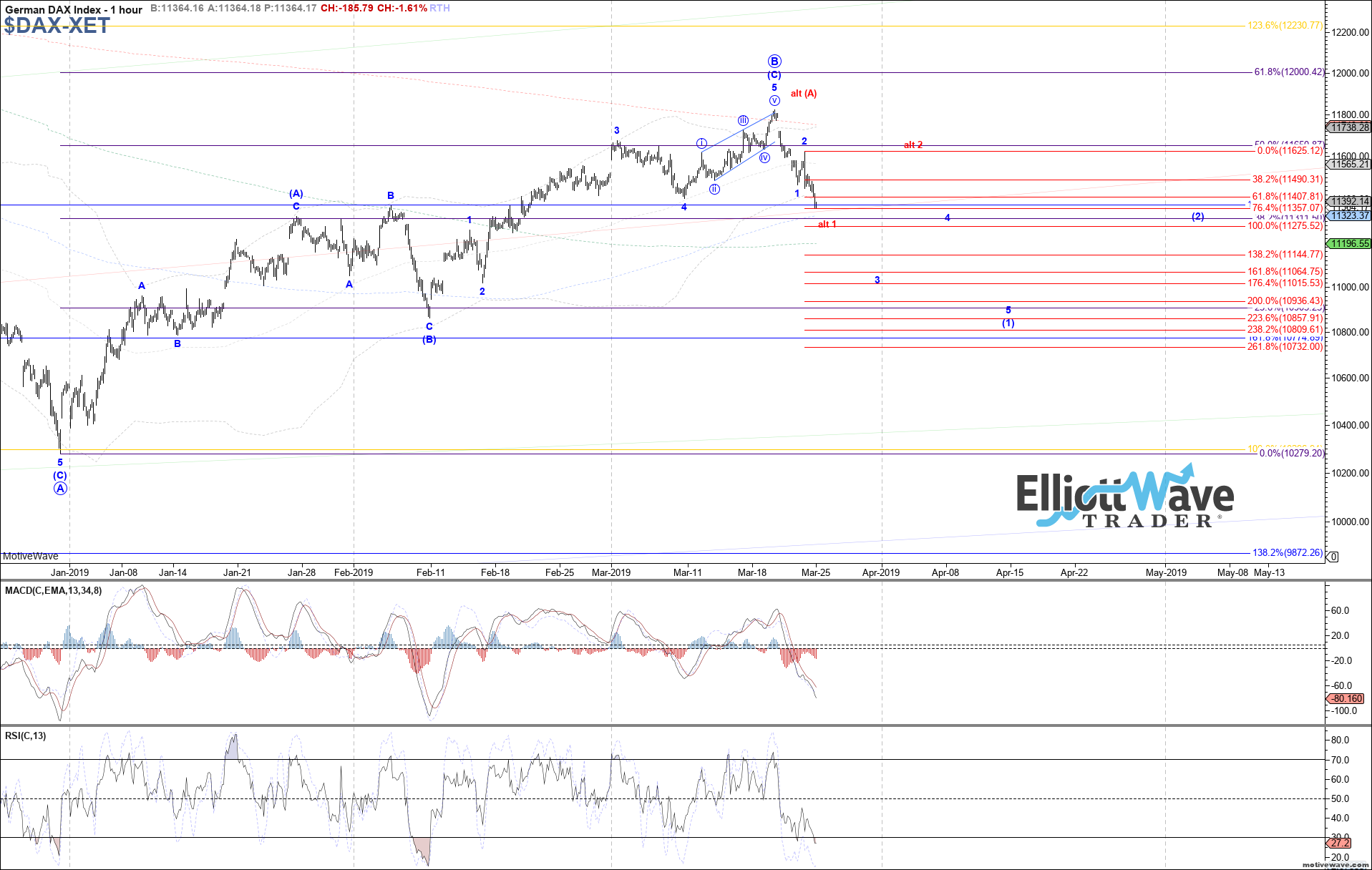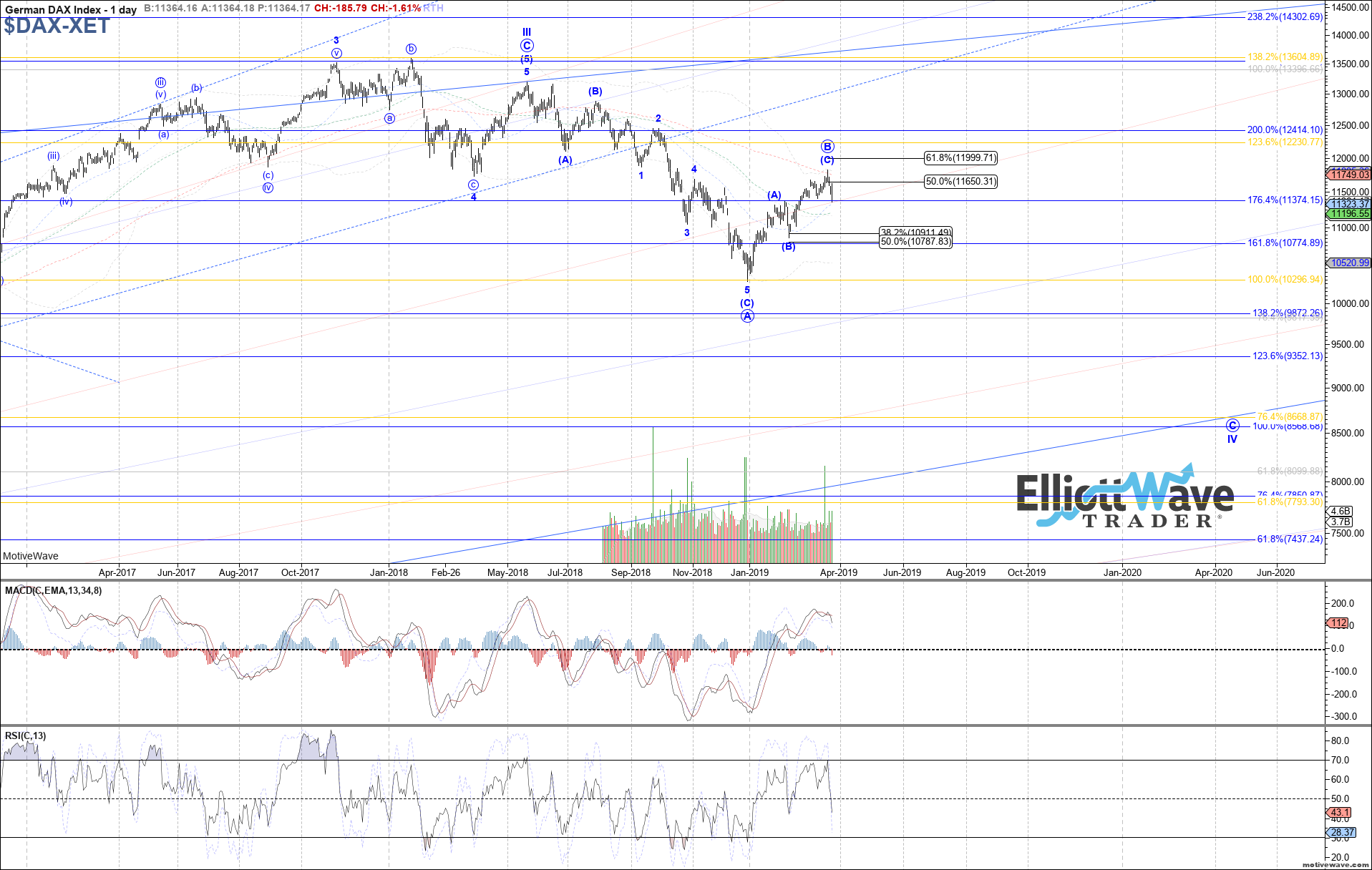 FTSE: The FTSE pushed initially higher last week, reaching the .618 retrace of the decline off last year's high into the December low. Price has since reversed strongly, suggesting a top in place as either blue wave (B) or b of the expanded flat B-wave shown in red. In either case, further near-term downside should still be seen, heading back to at least 6975 even if wave c of B in red. Once we have a larger degree 5 down from last week's high, the determining factor between the two potential counts will be whether price bounces impulsively or correctively after that high degree 5 down.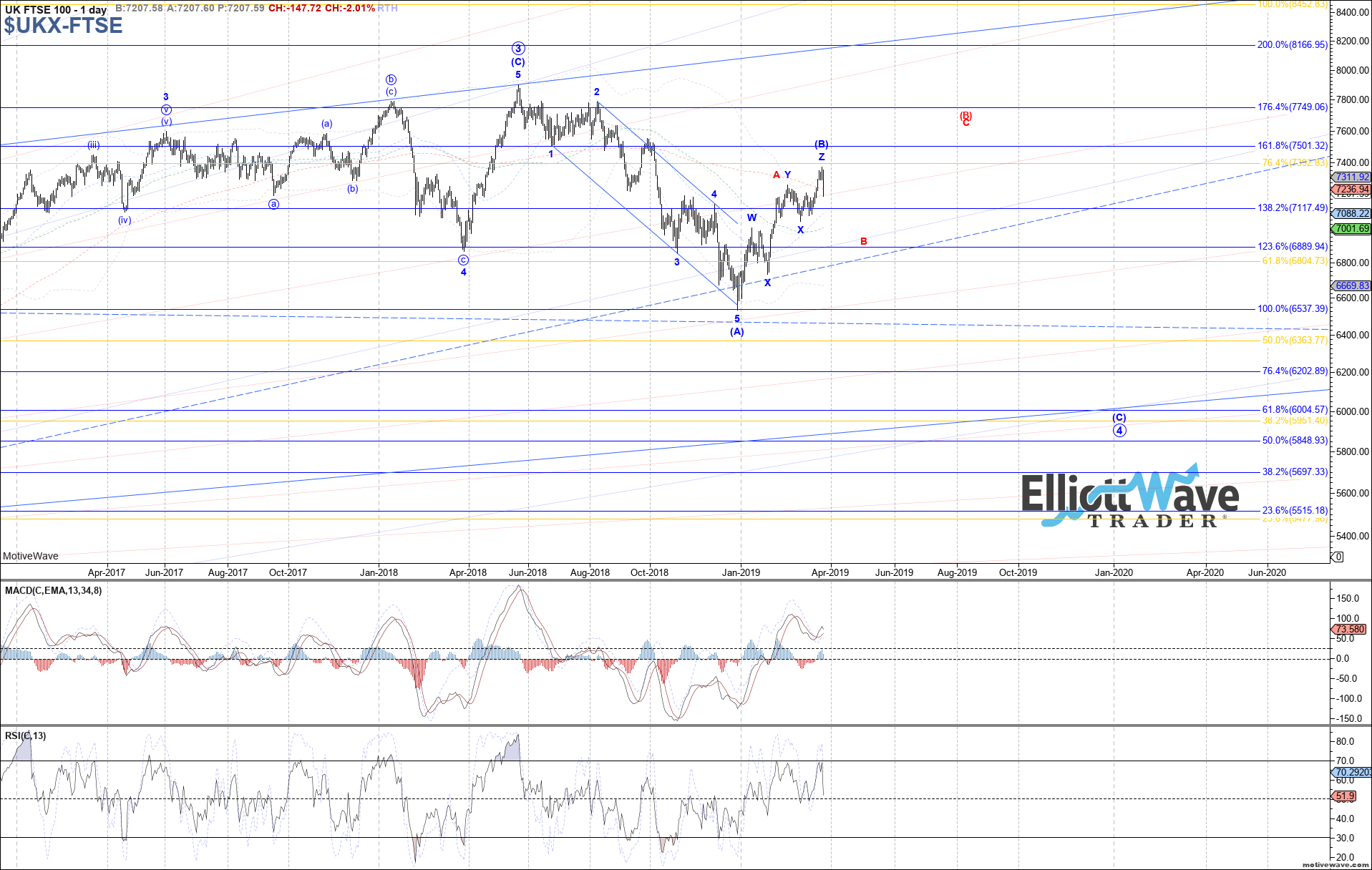 STOXX: The STOXX also started off initially higher last week, reaching the 3415 target cited before reversing sharply lower into Friday's close. Therefore, odds are firmly in place of a (B)-wave top complete here as well, with price working on an initial 5 waves down from last week's high. If so, then ideally price will continue to stretch toward at least 3260 next before wave (iii) completes and a small bounce is seen in wave (iv). The alternative if a more immediate bounce is seen is that this is just now wave (i) off the high completing and a near-term bounce would count as wave (ii).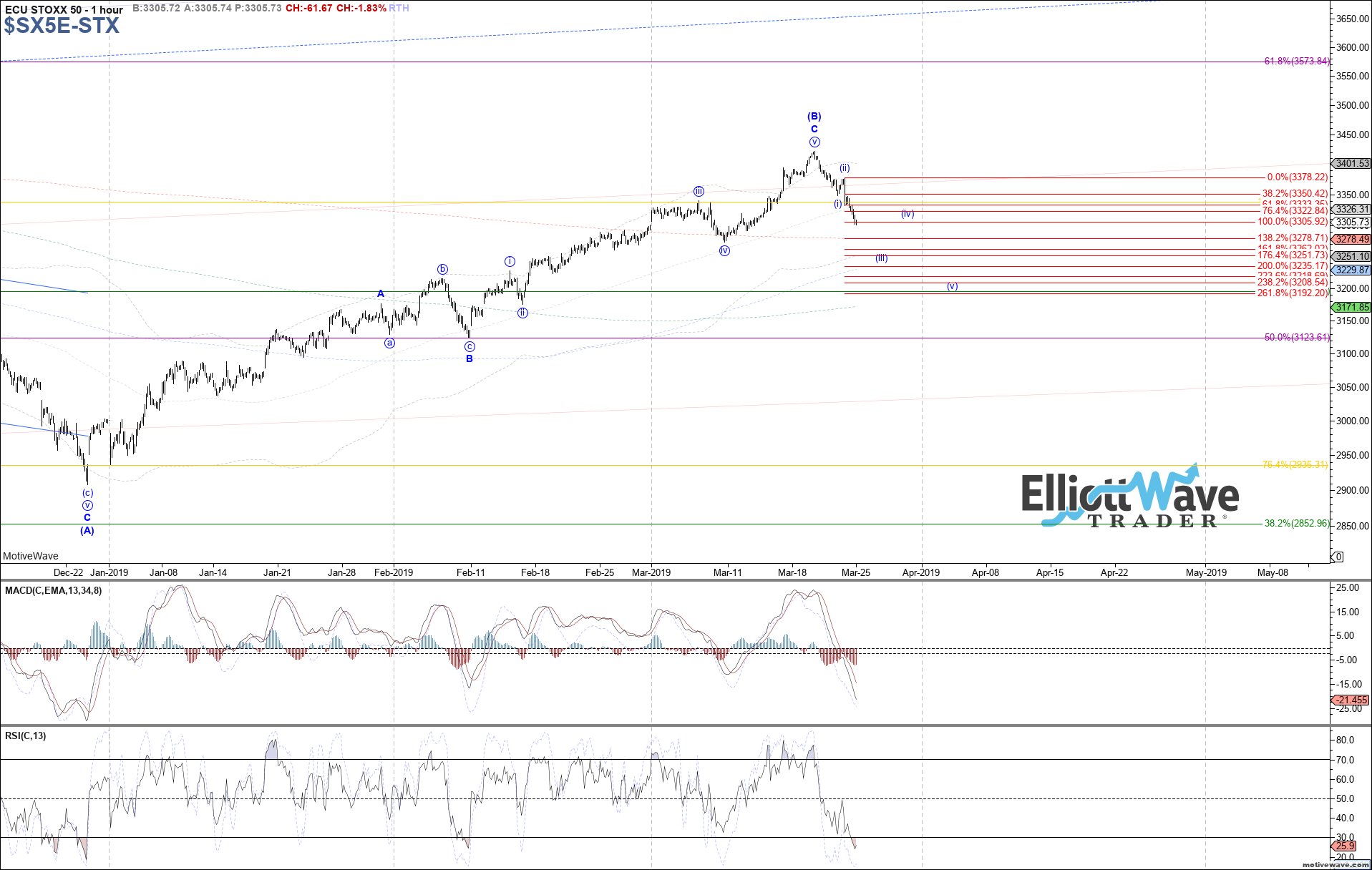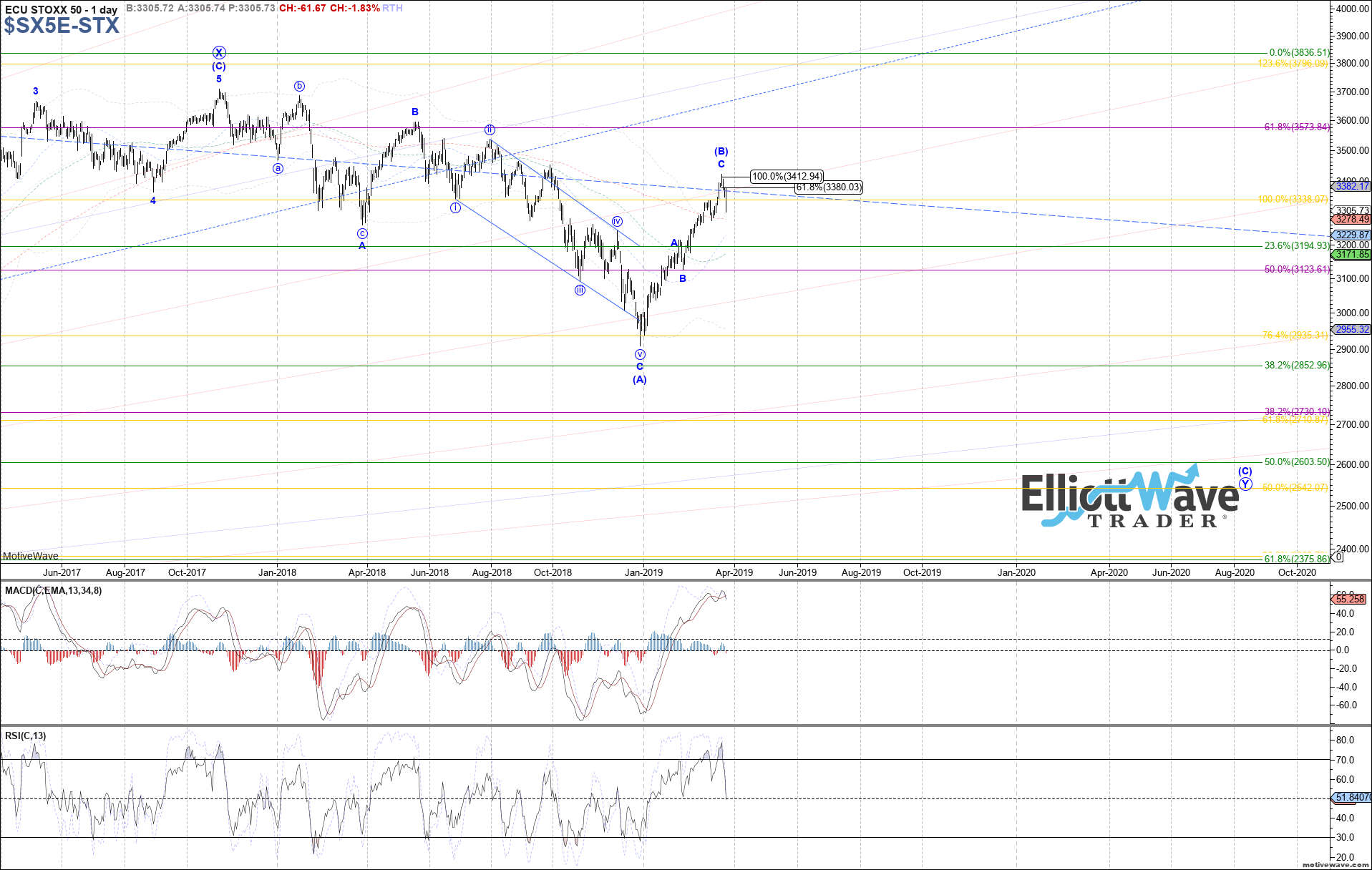 IBOV: The Bovespa pushed modestly higher to start off last week, reaching the 100175 fib target before reversing sharply since. Price has already made a nominal new low on the month, further confirming a top in place, likely as wave b of the expanded flat 4th. If price continues immediately lower from here and stretches toward the 90780 – 87370 target region, then all of wave c of B can be completing sooner rather than later. Otherwise, if an immediate bounce is seen to start off this week, then this may only be an initial (i)-(ii) start forming of an even larger c-wave.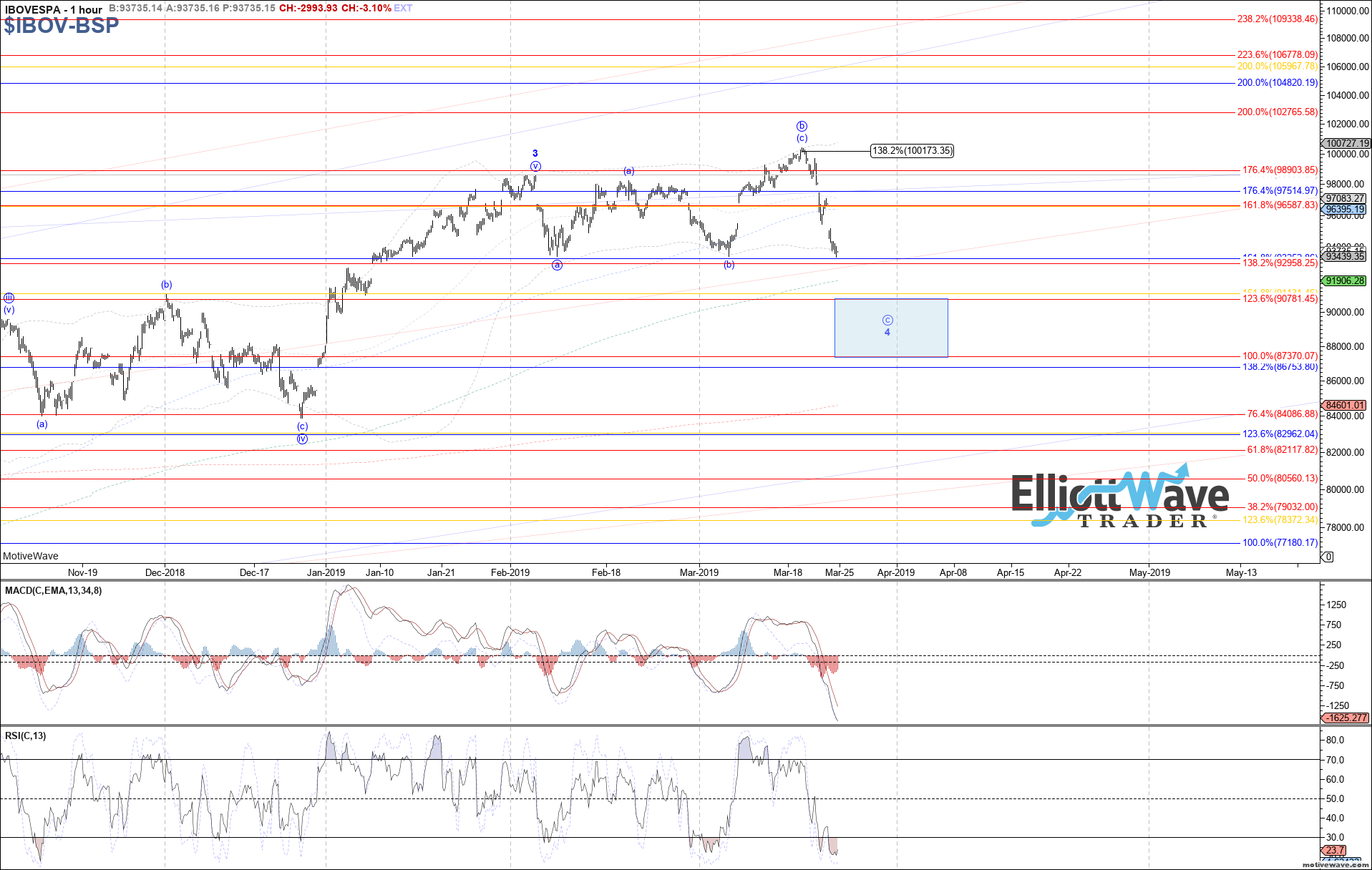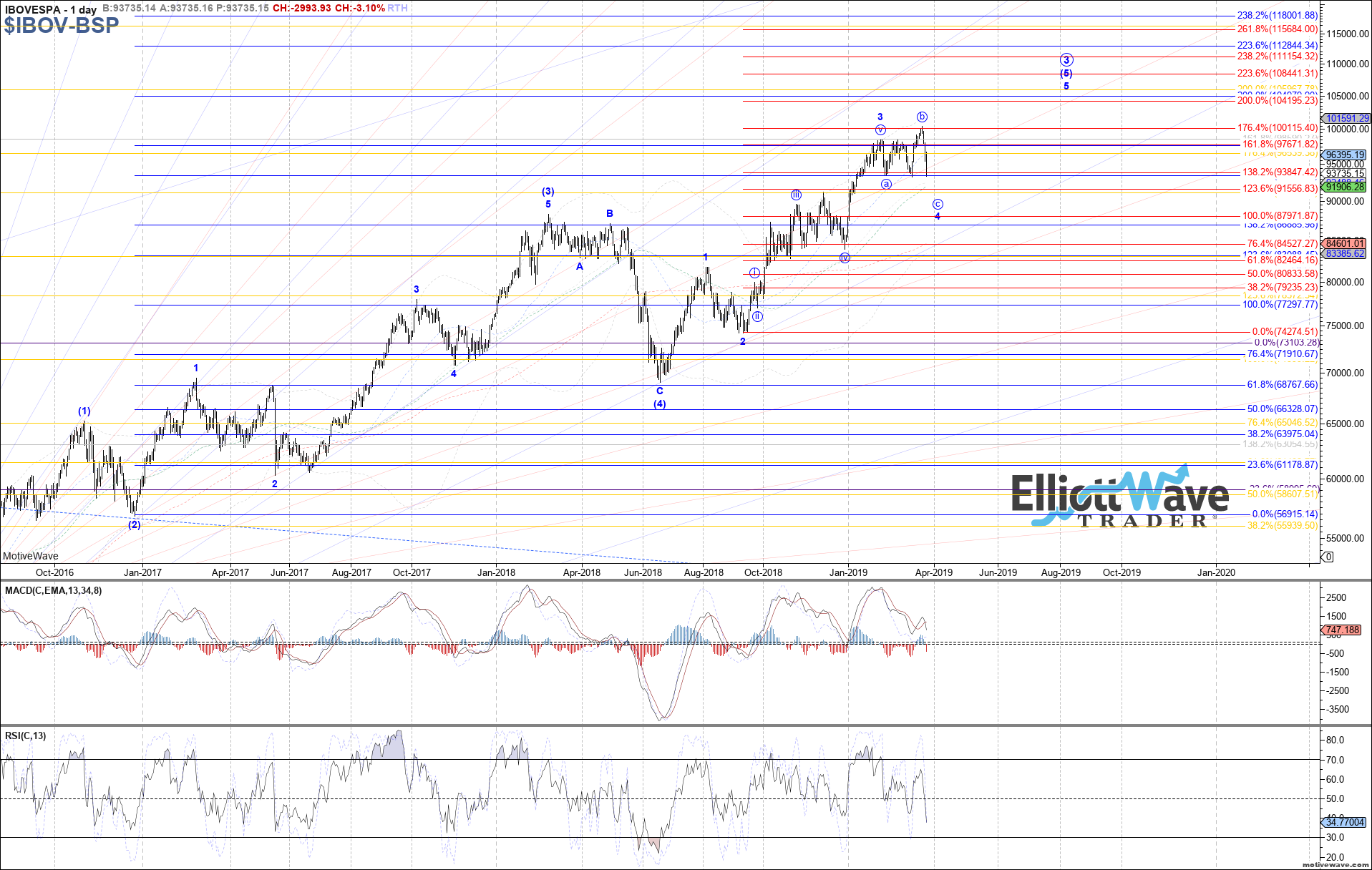 IPC: The IPC continued initially higher last week, reaching high enough to suggest that this bounce was more than just wave iv of C in the larger (B)-wave pullback off the January high. However, in order to place any confidence behind a (B)-wave low in place and price now starting a swing move higher as wave (C), we need 5 waves up off the March low. Therefore, price will need to hold here as wave iv and see a new local high above the one made last week as a micro 5th to complete 5 up as wave 1 of (C). Otherwise if price continues to drop from here and especially if the March low is taken out, the door will be open to all of a B-wave bounce off the November low complete already at the January high.