Where Fundamentals Meet Technicals: AMZN, NTR
This remains a challenging macro environment. Economic indicators continue to show clear signs of economic deceleration, likely pointing to weak corporate earnings in the quarters ahead.
Meanwhile, the Federal Reserve is tightening monetary policy into that deceleration, which historically is a very bad mix for asset prices.
However, sentiment already reached very bearish levels. We can see that among the recent spike in small trader puts as well as sentiment polls like this one that I like to track from Twitter's financial community or "FinTwit":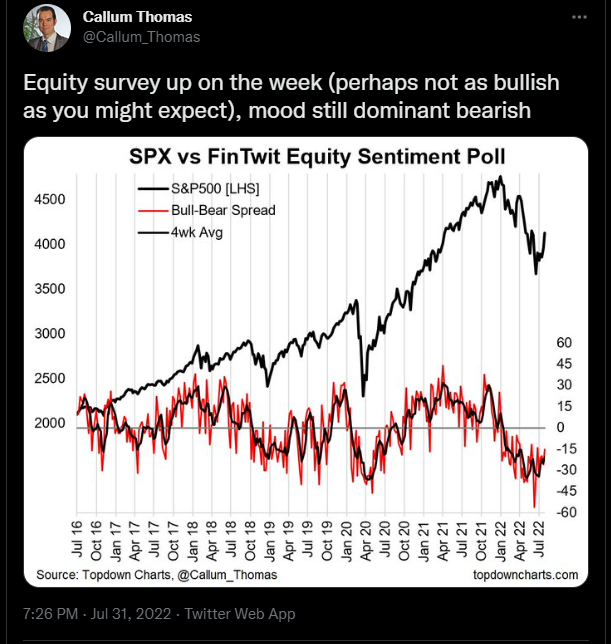 Chart Source: Callum Thomas
During truly cataclysmic bear markets, the market sometimes falls sharply even during historically low sentiment. For example, back in 2008 sentiment was very weak, but then the market crashed anyway because the entirety of that bad sentiment was warranted, without exaggeration. However, outside of those situations, negative sentiment is usually at least an intermediate-term contrarian indicator.
This issue of Where Fundamentals Meets Technicals takes a look at two companies that should provide decent long-term appreciation, although naturally they both face a lot of uncertainty in this difficult time.
Amazon
Amazon (AMZN) had a growth spurt in the early months of the pandemic and stimulus, but since has been on a slowing trend as excess liquidity and stimulus is withdrawn from the market.
During this time, the company is slowing down its pace of new logistics locations, as it re-assesses its supply chain plans and puts a break on growth to play some defense.
Meanwhile, the market has lowed its valuation on the company, to under 3x sales: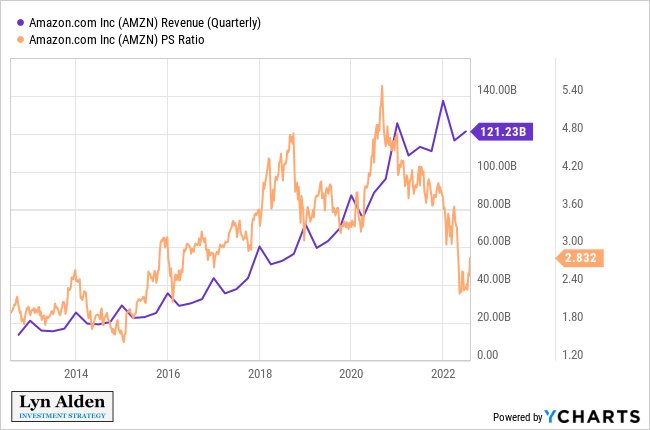 Analysts are rather bullish on operating cash flow over the next couple years, although I would personally discount that somewhat to account for recessionary conditions.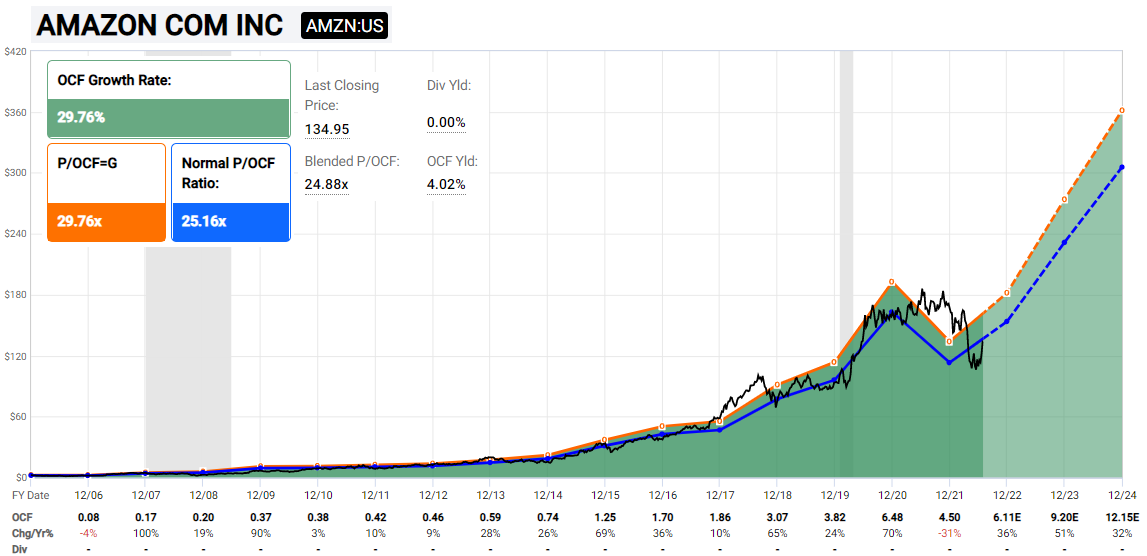 Chart Source: F.A.S.T. Graphs
Zac's technicals suggest some weakness this month, but with a probable bull market in place: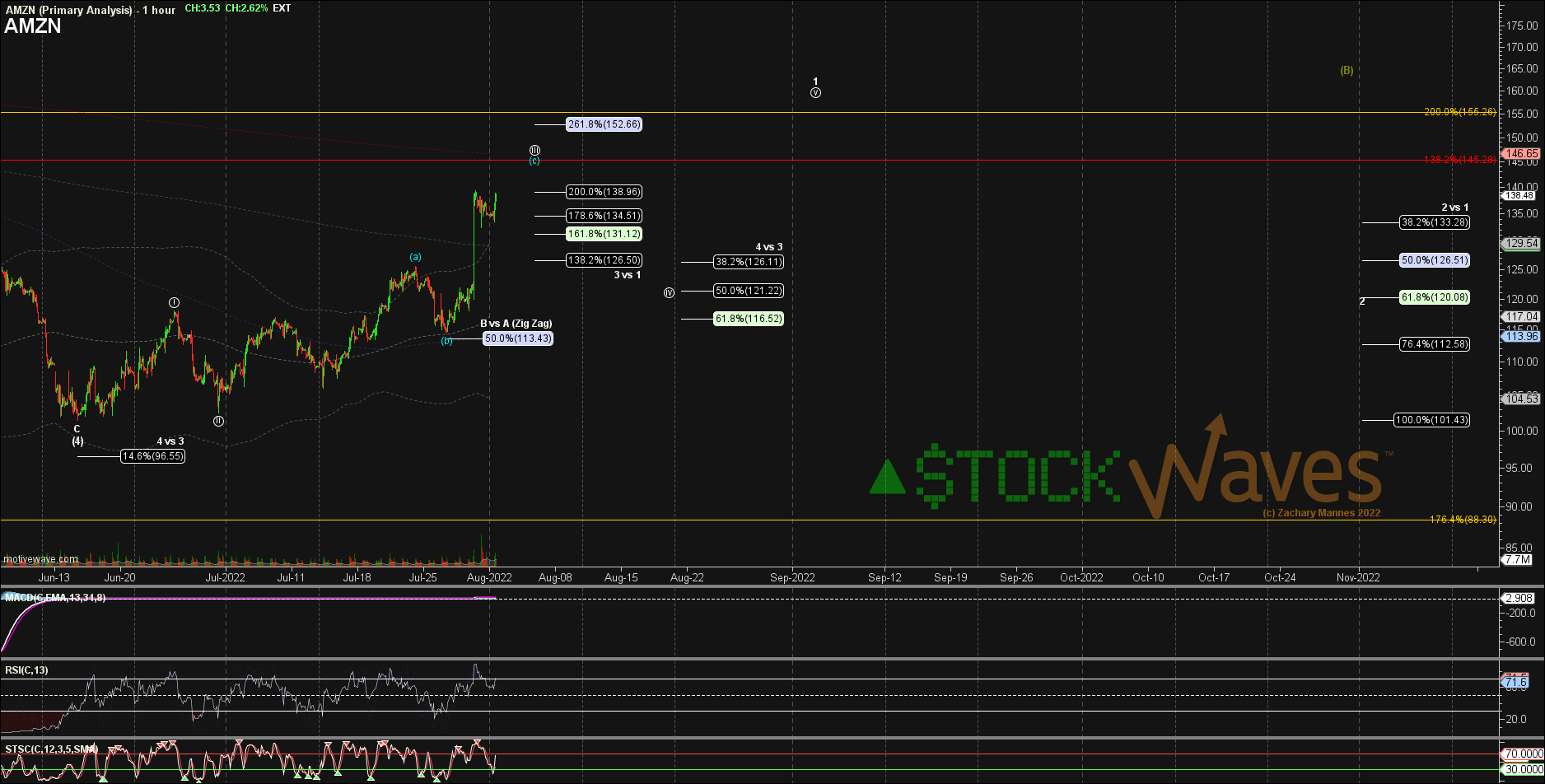 Overall, I view Amazon as being one of the better big tech companies out there. The bull case for what investors are really buying is the company's profit center (Amazon Web Services) and fast-growing advertising business, while the more complex retail side is more of a rider at this point.
Nutrien
The world is facing some disruptions in terms of fertilizer and food exports, and Nutrien (NTR) has the capacity to help with that.
Nutrien, a Canadian company, is the biggest potash producer in the world one of the largest nitrogen producers. They plan to increase their potash production capacity from 15 million tonnes to 18 million tonnes per year over the next three years: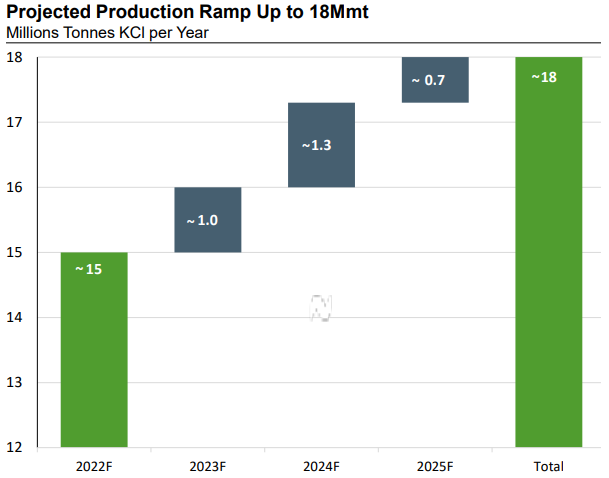 Chart Source: Nutrien June 9th Presentation
This growth will be in the form of expansions at existing facilities, which is the low-hanging fruit of growth potential.
From there, they have another 5 million in brownfield expansion potential that they will evaluate, which could bring their production as high as 23 million tonnes by the end of the decade if demand warrants it.
Zac has a bullish base case in play, but also a more concerning orange count to be mindful of:
4-hr chart: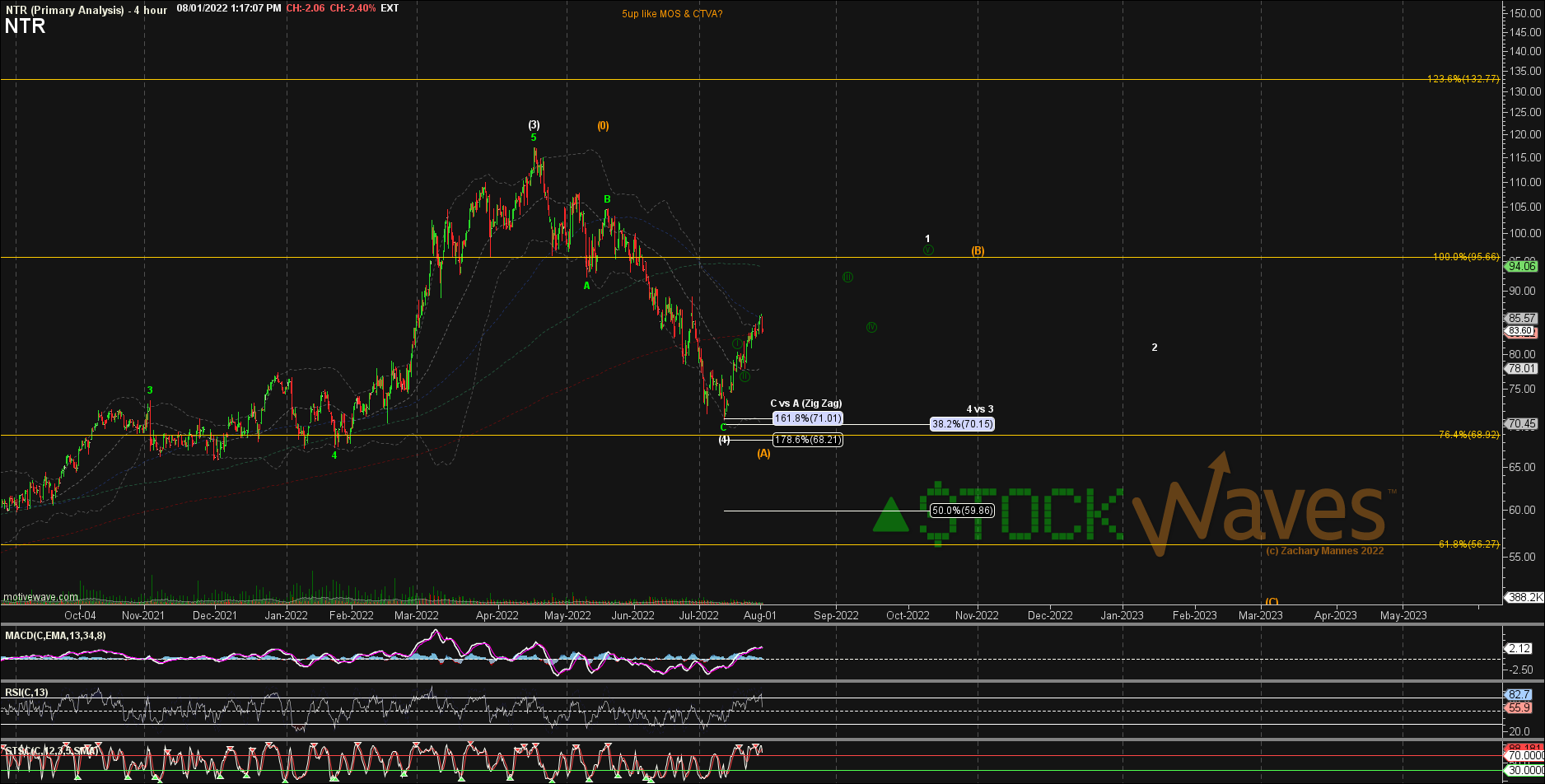 1-day chart: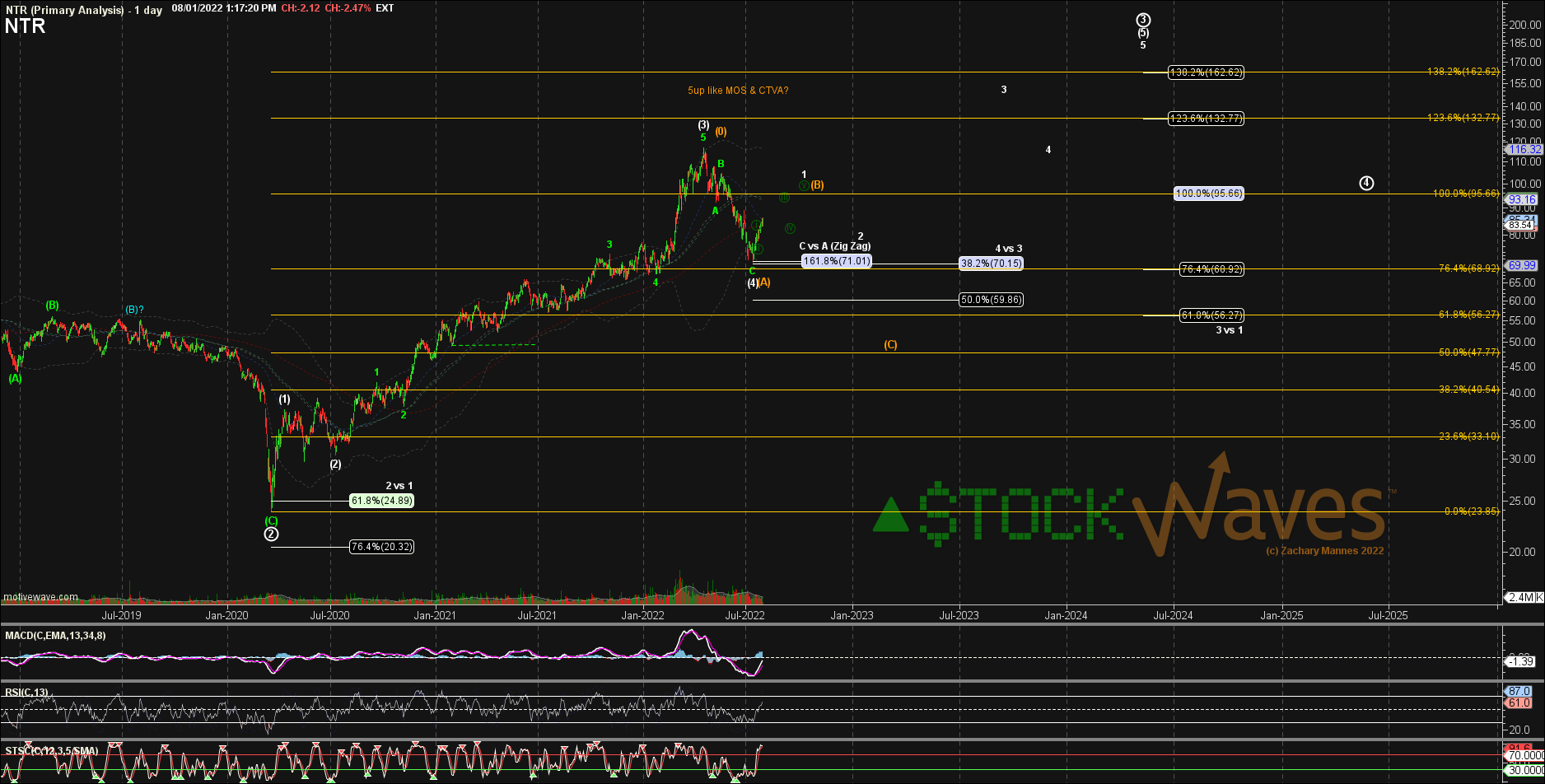 Traders might consider using the recent low (in the ow $70's) as a stop loss point.
The fundamental charts are interesting-looking at this time. The price to earnings ratio and the price to free cash flow ratio are both in the single digits, representing deep value.  Analysts expect that the company is in the middle of a big boom in profitability, which will settle down in the years ahead. The market has basically shrugged this off: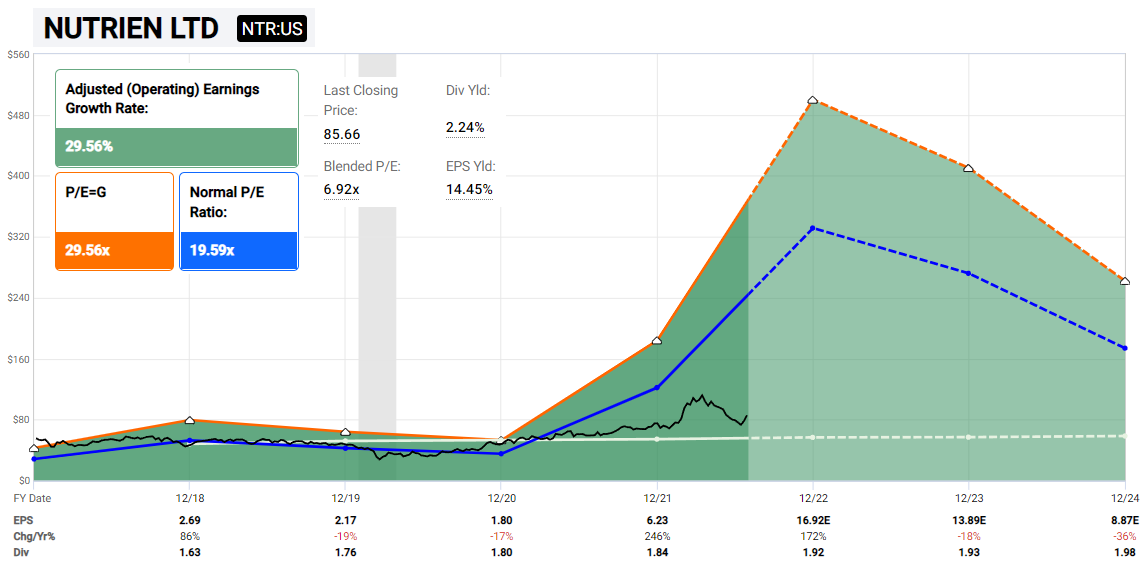 Chart Source: F.A.S.T. Graphs
The market remains understandably skittish about commodity investments. Investors are concerned about recession risk and a strengthening dollar, and are juggling the narrative that this recent bout of inflation was just a temporary surge due to supply-side problems. In the near term, there are indeed a lot of risks to any commodity bull thesis.
I see the same skittishness in energy stocks; they are currently in a corrective mode with some significant near-term downward price risk, and the market is completely disregarding that this could be the start of a longer-term energy bull market after it gets through the correction that it's in now.
There hasn't even been an energy capex cycle yet, meaning there has not been a new uptick in supply to address high prices, which suggests we are still early in this structural commodities bull market.
I continue to view commodity producers as some of the best places to be for this 2020s decade, but it'll be a bumpy ride along the way.
Meanwhile, Nutrien pays investors a 2.3% dividend yield to own it. They began with a $0.40/quarter dividend back in 2018, and have raised it to $0.48/quarter by this point.