From last weekend's update: In our update last weekend, we wrote: "We need to get above the 2941-48 resistance zone (on the Emini S&P 500 / ES) to open up higher levels -- there is some resistance in the 2955-60 area but I think if we clear the 2940s, then we should test the 3000 area again. Looking at all of our indicators and setups, we are neutral but slightly positive on the whole. Secret Indicator is back to pointing higher, internal indicators are slowly turning positive and the open interest data is neutral/sideways in the short term but bullish in the long term. All in all, my read is that bears are running of out of room and time to make a stand here. Below 2900/2890 support, bears come back alive… but if we clear the 2940s, bears will have to go back into hibernation for a while. Based on the indicator reads, while we may have some more sideways action and consolidation ahead, I think the bulls eventually get this above the 2950 area for a continued move higher."
What actually happened: We had a little weakness early in the week but after testing the 2900-2890 support levels multiple times(noted as important above), bulls took back control, rallying us above the 2940s to end the week comfortably above at 2983.
What next? After being long for a few days last week, we are now flat again after booking around 4.5% profit in our SSO (2X long SPX) trades. The plan is to re-enter the longs in coming week on a pullback. It is possible we just consolidate sideways and breakout also. Whatever happens, we will get back into the long trade by Wednesday of this week. Wednesday is WWW -- the Wednesday of the week before monthly options expiration week -- in which more often than not we get some kind of pullback into this date setting up an advance into monthly OPEX week, which is the third week of September.
If we objectively look at price action last week, we tried to break below 2890/2900 support zone multiple times which failed. When support cannot break in the face of negative news flow after multiple tries, followed by a break out above resistance in the 2940s, we need to give importance to that. Bulls have the upper hand right now. All our models are also positive this week -- last week some of them were, but this week all of them are: Secret indicator combo on buy, NYHL1M on buy on various timeframes.
Options data is also bullish long term, but short term is suggesting a possible small pullback which is why we are out and looking for re-entry at better prices. As long as price holds the 2947-40 support zone on pullbacks, the trend is up at the moment and pullbacks should be bought. Below 2940, situation becomes very iffy again and bears will take back full control below the 2890-2900 zone. Until this happens though, bulls have control.
Here is a view of the NYHL1M main signal going to a buy middle of last week.

Here is a view of the Secret Indicator combo which went to a buy signal on the 29th of August.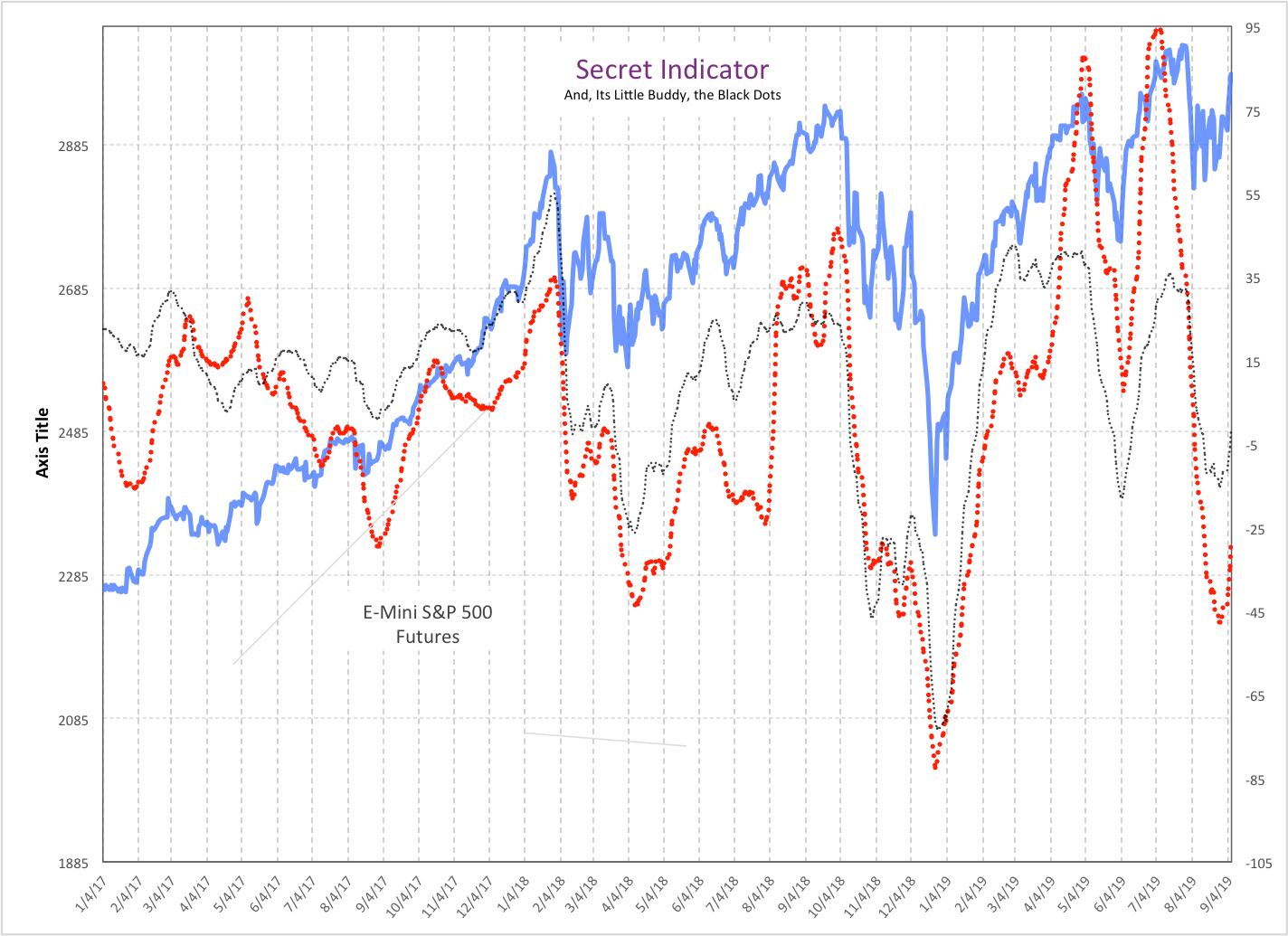 Here is a view of the NYHL1M micro signal going to a buy week before last week on 8/30.. This is the signal we use mainly for trading in the smart money room... This allowed us to capture a good portion of last week's rally.

ES Grey Zone areas - The grey zones on the ES 5 min chart below are what I draw in on a discretionary basis - they are supports and resistance areas which the market is most likely to react from. If we test a zone from below, it is likely to be rejected and fall lower to test support zones below. If we test a zone from above, it is likely to take support there and begin a move higher. So these zones can be used for intraday trading and/or as entry points for positioning for swing trades. These zones are drawn in based on what the market has done there previously both on smaller and larger timeframes.
Grey zone support now at 2973-65 and then 2947-2940. Resistance zones - we are in one now at 2980-88 and then higher we have 3005-3014.

Daily pivot is at 2980.5. Resistance R1 is at 2991 and R2 at 2998.5. Support S1 is at 2973 and S2 at 2962.5.
All the best to your trading week ahead.