Steady, Slow Grind Higher
As we noted in last weekend's report, "We now look to be trying to find support/demand in this area. To me, this looks like an attempt to retest the lows and/or build a higher low.  We need to get back above 3840 to confirm this idea… and getting above will likely have us targeting 3940 next. On the downside, if we break 3740, then we are likely going for a full retest of the lows."
What actually happened is that we built a higher low as expected in the 3750 area on the Emini S&P 500 (ES) and then broke back above 3840.
As we stand, price action is bullish short term, bullish/neutral medium term and bearish long term. As outlined as a possibility last weekend, we look to have built a higher low in the 3750 area and are back above 3900 again. Next up we have strong resistance at 3950 area, which needs to be cleared for higher levels to come into the picture. If we can clear 3950, 4050 will be the next higher target and above that we have a cup and handle pattern target of 4250. But one step at a time. On the downside, 3850/40 is first support and below this 3810/3790 is the next support area. 
Looking at price action, we have a steady slow grind higher.   This is a good thing as I have been saying in my updates as it keeps longs from fully committing and it keeps shorts adding/holding. A wall of worry when it comes to sentiment is what keeps these kind of moves going.
Coming to our indicators, in this recent uptrend, we had the Odds indicator go long first at 3680 on June 16th, then a quick short at 3825, followed by long again at 3780 on June 30th and holding long for the last 125 points. 
Internals are lackluster, although we now have short term buy signals.  Sentiment stays on a buy signal with money managers remaining mostly bearish/uncommitted, and this is good for our long trade. Overall, our indicators support the long side and we are holding long until that changes.
Looking at pivots and zones, grey zone resistance is at 3906-23 and then 3950-62. Support is at 3882-67 and then 3849-32.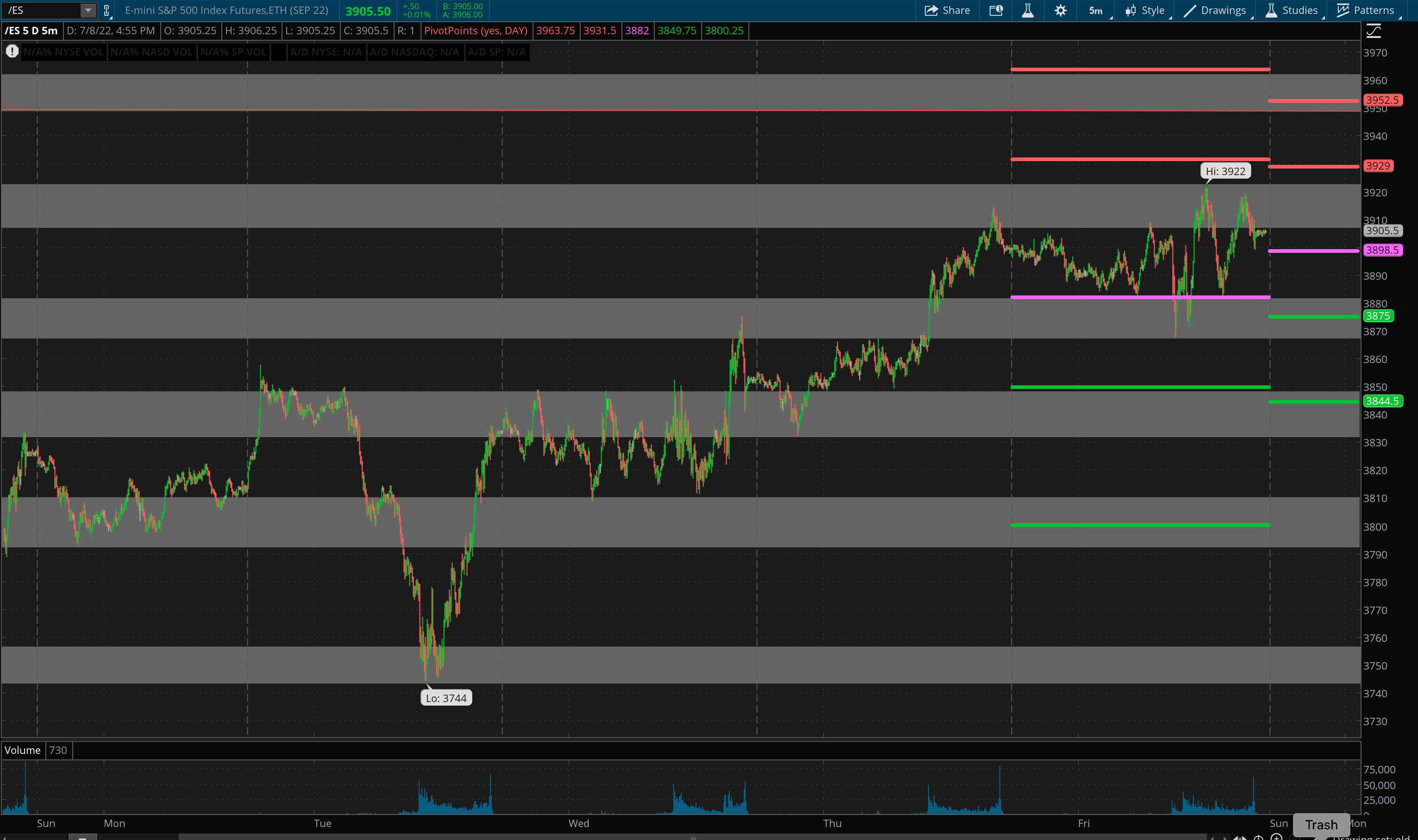 For Monday, daily pivot is at 3898.5.  Resistance R1 is at 3929 and R2 at 3952.5. Support S1 is at 3875 and S2 at 3844.5. 
All the best to your trading week ahead.