More Downside Potential for GDX
With a break below its December 2016 low, the GDX, formally known as the VanEck Vectors Gold Miners ETF, has confirmed that the rally off that low was corrective, as I had favored since February of this year.
Even the gap down through the acceleration line at 19.53 is picture perfect for the count. Furthermore, micro acceleration that we are seeing opens up potential that downside may extend to as low as 14.5, as shown.
That said, we must not get complacent. While it is presumed that the move is an abc, it is only a conjecture, and a corrective decline can bottom as a wxy. To open up potential to a wxy, GDX needs to break resistance, which at this point reaches as high as 20.13.
To be clear, this move down is very extended, and even in the c-wave scenario, a rally of over a point can easily be seen (and ideally will be seen, or I'll be worrying about something even more bearish). That snapback rally will absolutely not affect my perspective UNLESS we get an impulse that takes GDX over 20.
Please note: My regularly updated coverage areas on EWT are the Nasdaq 100, Russell 2000, and Bonds. Posts outside of these areas, such as this post, are provided on an ad hoc basis and don't imply ongoing updates.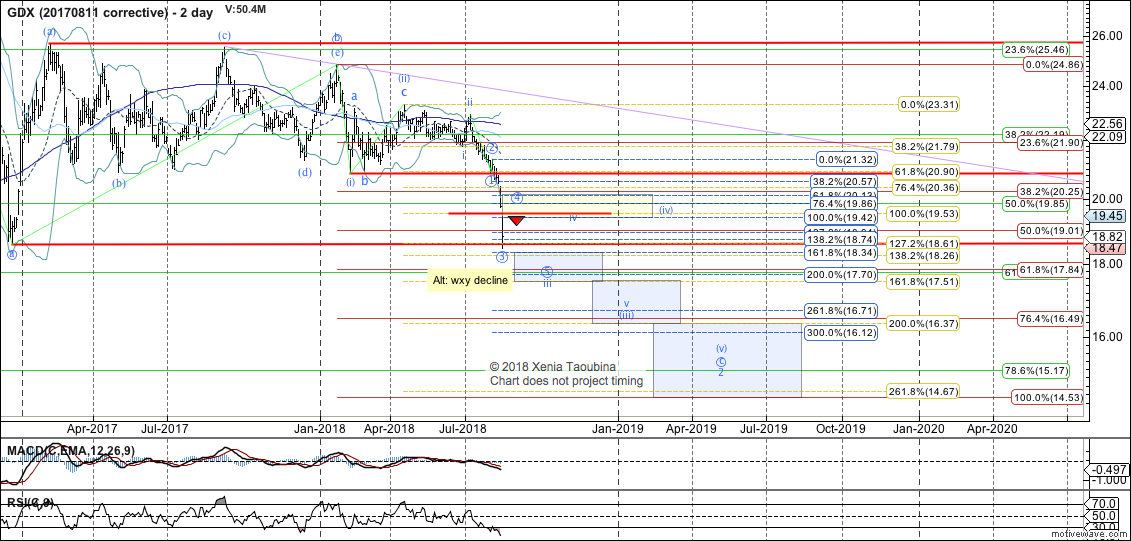 GDX - 20170811 corrective - Aug-15 1331 PM (2 day)