Mental Trading Talk - Market Analysis for May 31st, 2018
Quick Mental and Trading Talk:
Regardless of the TAPE....choppy action, flat action, correction or STRONG TREND (bull or bear)..... remember as trader's we hold our own cards....
the market moves, often times way out of sync with our analysis, mildly in sync, or really in sync. read that again....
We must know what kind of traders we are. Are we best back and forth, ie buying quick dips, selling quick bounces...scalpers? shorting quick bounces, covering quick retraces....or are we something a bit longer time frame maybe we hold for days or a week...
...or are we something even more than that where we really need trends...maybe catching a turn, but really buying strength, shorting weakness....riding that puppy, pressing, taking some off, and taking advantage of 1 direction...till it ends...or till the wheels come off as i say....
I know im a trend trader...the back and forth isn't my thing...i can turn a bit of a profit in these tapes...but man it requires a lot of mental capital, for what isn't ground breaking or year making money. Because i know my % win/loss rate goes way down, i take my size down, i have too....so i know i can't make the money i can when im in a firm trend. I know what im good at, I know what im marginal at, and i know what im BAD at.... it took me a long long time to figure that out....but again, the no rhyme or reason melt ups then quick falls all in a range...chews me up each time i think im making progress more than i profit handsomely from it....ie i make a lot of hard trades to Break even or lose a little or make a little....
so what's my point. the true TURN in a trader's Continuing profitability, is recognizing where your profits come from....but then actually Staying Disciplined in those guidelines.
Here is a chart below....I literally wrote my trading over the recent time frames with LINES or ARROWS and trends etc....and what i did in those time-frames....
this tape is in a transitional period, cleary....will we get the all clear signs for a new trend to new highs emerging shortly? or will we get more of this Triangle Corrective action? Well either way....i know i am not making huge bets yet...I don't have a strong edge...i really see a lot of evidence for both frankly...that gives me lower conviction and speaks to the tape remaining in transition....
what I do know for certain....is another TREND will emerge...and I will continue to work hard to get in front of that analytically, so when it does...I can trade firmly again.....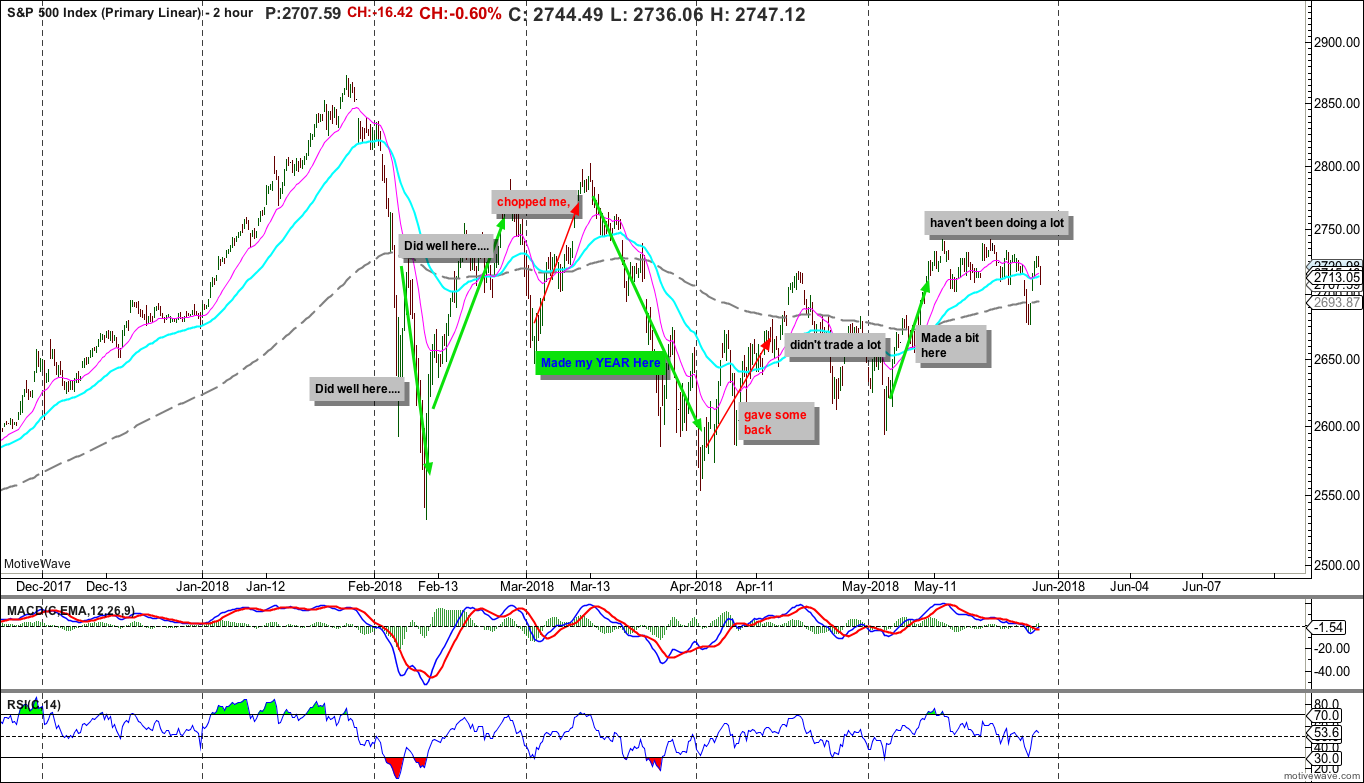 $SPX.X - Primary Linear - May-31 0750 AM (2 hour)