Futures are trading mildly positive this morning, with price bouncing in a potential micro 5 waves up off yesterday's low. Therefore, it is possible to consider a local bottom in place, even as all of circle wave ii/b. In order to confirm that is the case though, then a higher degree 5 waves up off yesterday's low would need to be seen, taking price back up closer to last week's high. Otherwise, if the current bounce off yesterday's low cannot hold, then 2708.25 - 2683 on the S&P 500 remains the next support below for a deeper circle wave ii/b.
Internationally, the FTSE spiked initially higher this morning, but quickly faded back down to close red on the day. Therefore, without a breakout above the prior high earlier this month, wave (b) of iv appears to still be in progress as a wider flat, with the high this morning completing wave b of (b). Under that assumption, more near-term downside to reach the 7020 - 9625 target support can be seen before turning back up in wave (c) of iv.
The DAX is trading higher so far today, after coming close to testing the .618 retrace around 11290 at yesterday's low. Price will eventually need to climb back above 11595 to confirm a bottom in place as wave (b) of iv, with price heading up to 11965 as wave (c) of iv next. Otherwise, 11185 is the next main support below if further near-term downside is needed before wave (b) of B completes.
The Nikkei has gapped strongly lower, filling out more of the suggested pullback as either blue wave b of B or the alt wave ii in red. So far price has already reached the .618 retrace at 21570, but otherwise nothing to indicate a local low in place yet. Therefore, price may still stretch to the next support at 21305 as a .786 retrace before attempting a bottom. Otherwise, a break back above 21890 would be needed to suggest that blue wave c of B is underway.
The Hang Seng has gapped lower as well, slightly exceeding the .618 retrace support at 25265. Price will need to climb back above 25770 to signal a local bottom in place as red wave b of 4, with wave c of 4 still targeting the blue box above at 26915 - 27815. Until then, price may reach a little lower near-term first to test the .786 retrace at 24945.
The Shanghai Composite is relatively flat so far, so not much to add to the weekend update. Either blue wave (4) is morphing into a WXY structure with last week's pullback counting as wave b of Y, or more near-term downside is needed in red wave c to complete a larger flat off the mid-October high as wave B of (4).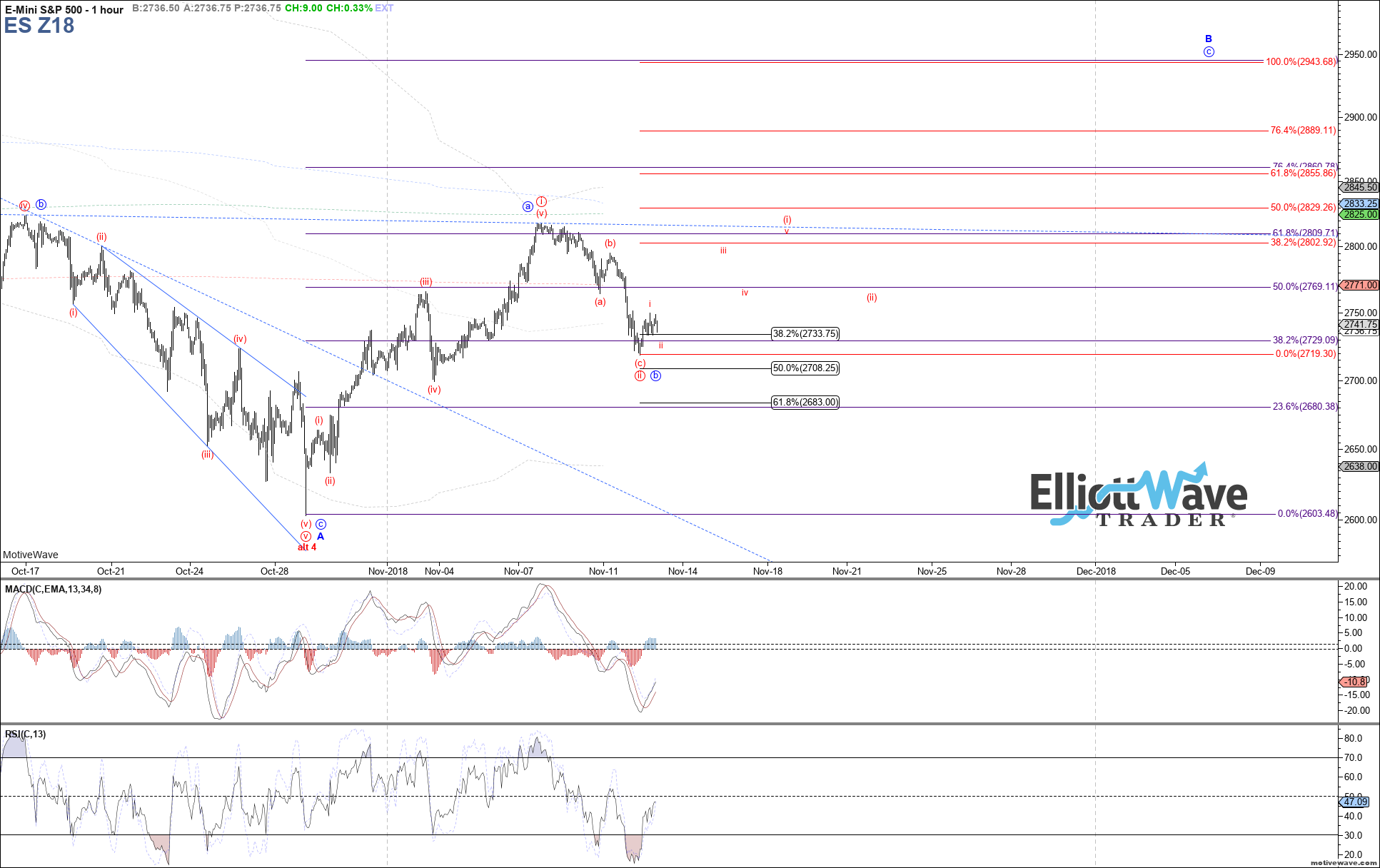 ES Z18 - Micro - Nov-13 0551 AM (1 hour)