Have We Begun A New Bull Move Toward ATHs?
Last weekend, we wrote:  "The range is contracting over the past few days and if the triangle idea is correct, we may have one more test toward the 4330-80 area before breaking down in the final leg toward 4000."
What actually happened is we had a bullish week with price breaking through and exceeding 4380 comfortably on the S&P 500.
Looking ahead of this week, price action is bullish short term, neutral to bullish medium term and neutral long term.  Looking at the charts this weekend, the big question is:  Have we begun a new bull move toward ATHs? While possible, I think -- as is usual in countertrend bear rallies -- we have just extended in this move higher as well.  I had two spots in mind where the rally might reverse. One was 4360/65 and if that was exceeded, 4480/90 was the next spot I had in mind where we might get a reversal lower. I am still of the view that this can happen in the coming days -- i.e., we can face resistance in the 4480/4500 area and begin a leg lower for a retest of the lows and maybe lower.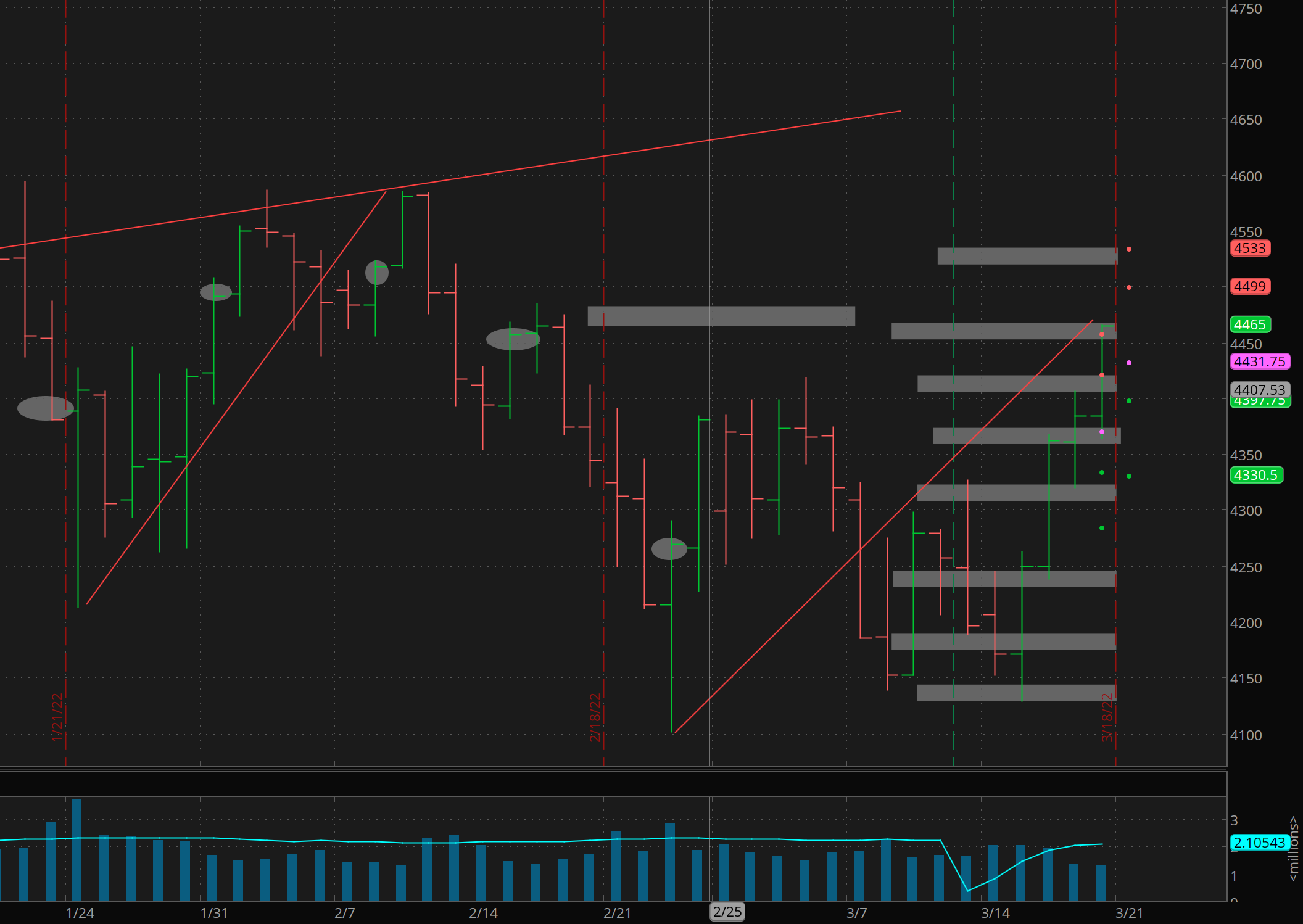 Before we get overly bullish, consider that the move higher from the Jan 24th low was 375 points before topping out and heading to new lows. The move from Feb 24th lows is 363 points so far until the Friday close at 4465 (see above). These types of moves are to be expected in the current environment we are in.  However, if we exceed 4585, then we really do not have anything else to support any big picture bearish expectations.  But until that happens, I would not trust this current move higher.  If we do see a slower pullback/basing/retest of somewhere in the 4300 range which holds, then we could have a better base to build off from and this can turn me more bullish.  But if the 4300 area does not hold, then I expect lower lows toward 4000 soon after.
My bias at the moment is toward more bearish outcomes.  But as I outlined above, a slower pullback toward 4300 which holds and which generates an odds buy signal will get me bullish.
All the best to your trading week ahead.