Following Path Of Least Resistance
In last weekend's report, we wrote:  "With price closing above 4600 last week, I think we hit the 4650 area and maybe even higher before we get any bigger pullback.  We may however pullback lower very short term into the 4550/40 area to test support again before doing this. However, path of least resistance continues to be higher and we continue to hold longs until our indicators suggest otherwise.  We need more time and higher before we can get any sell signal… So we go with the path of least resistance until that actually happens."
As expected, the market continued the week along the path of least resistance.   
Looking ahead to this week, internals are bullish on review today. Price action is short-term neutral to bullish, medium-term bullish and long-term bullish. 
Most of our indicators are bullish.  However, our Odds Indicator does show some signs of a sell signal very soon, which may mean just a pullback before continuing back north.  The 4665/50 area on the Emini S&P 500 (ES) is support, and this area is buyable for more upside. Below this support area, 4620/35 will come into play, and is also buyable.  The market does look like it has more upside ahead, but things are getting quite extended here.  So while we are still long and the path of least resistance is still higher, we need to be cautious going forward and keep an eye out for topping signs.
Below is a chart that shows how/where we entered longs on Oct 4th in the Smart Money Room at EWT -- very near the lows, and we are still riding those longs here with close to 400 points gain on them but managing risk/size as we continue higher.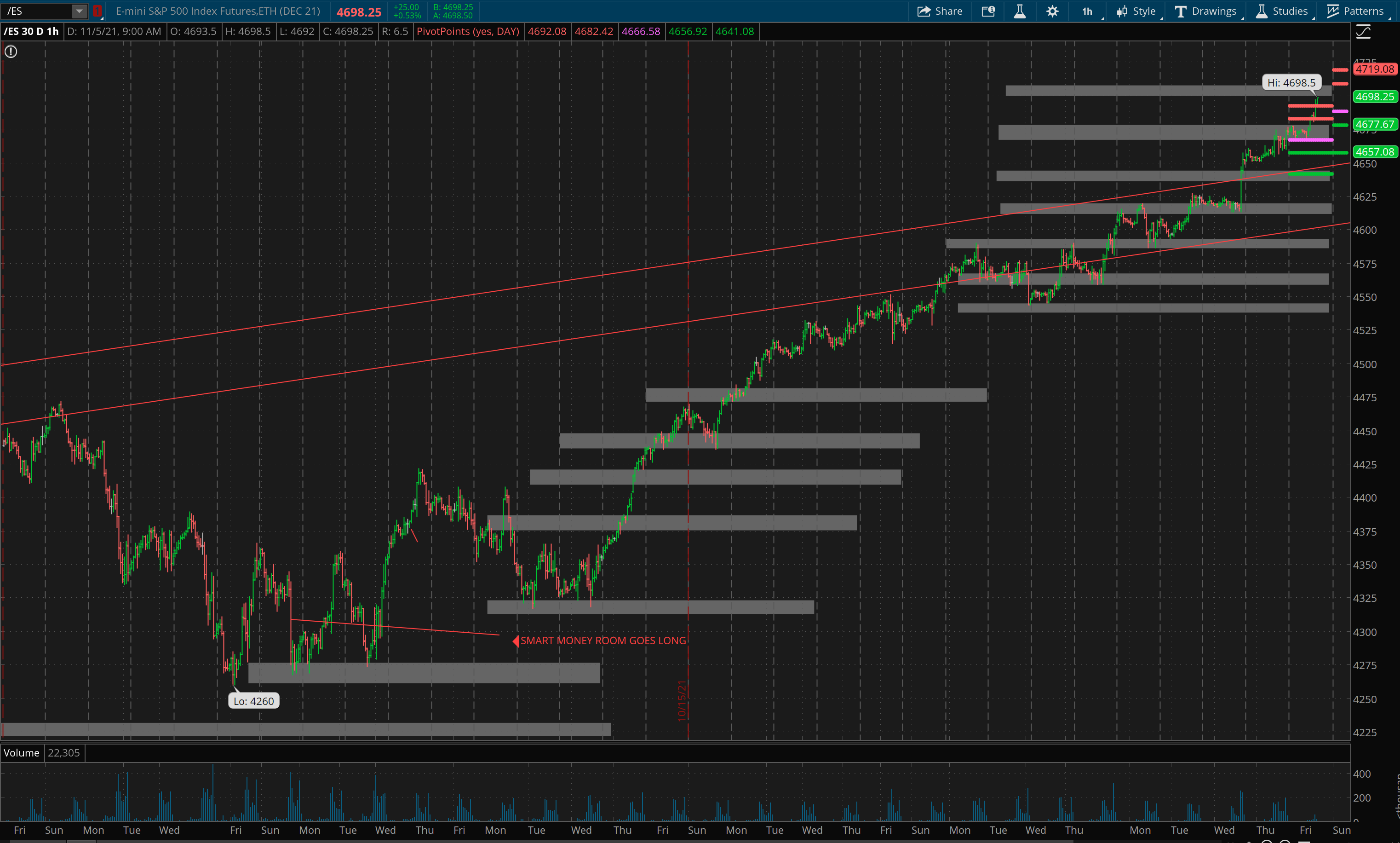 As for resistance and pivots for Monday, grey zone resistance is at 4705-12 and then at 4733-40. Support is at 4679-66, 4645-36, 4620-11, 4593-85, 4560-67 and then at 4538-45.  Daily pivot is at 4688.  Resistance R1 is at 4709 and R2 at 4732.5. Support S1 is at 4665 and S2 at 4644.

All the best to your trading week ahead.