Continuing To Grind Higher
In last weekend's update, I wrote:  "I am expecting some weakness to set up over the next couple of weeks and then maybe we can get another push higher into the 3750 area."  
After some very brief weakness to start the week, price pushed higher to end up at the highs of the week. 
Looking ahead, options data is neutral. Internals are holding a bullish posture. Price action is short term bullish, medium term bullish and long term bullish. Our Odds indicator continues in cash, but a sell alert is still active -- we need to see price rejection and some clear weakness for it to actually trigger in the coming week.  Until that happens, we can continue to grind higher. 
On the other hand, if we see a shallow pullback during the coming week down to 3600 area WITHOUT Odds going to a sell signal, then we will likely have a buy setup developing near the 3600 support area. 
These are the two scenarios we need to be on the lookout for in this coming week.
With the razzmatazz models suggesting a top in the coming week, a top out and selloff has a very good chance.  However, whether that will be enough to trigger the Odds to a sell signal is the big question. Regardless… we wait patiently for the next primary trade to set up.
Here is a peek at the short term razzmatazz model which I track in the Smart Money room. It is built based on ES option put/call ratios.  Simply put, the blue line, i.e ES, tracks along with the red/black dotted lines which are the razzmatazz lines/waves.  It is not perfect -- nothing is -- but it does offer a good idea of what may be coming.  And remember magnitude is not always important here but direction is. 
The model is showing a top for this coming week on both the daily and short term versions. Whether price will follow is the big question.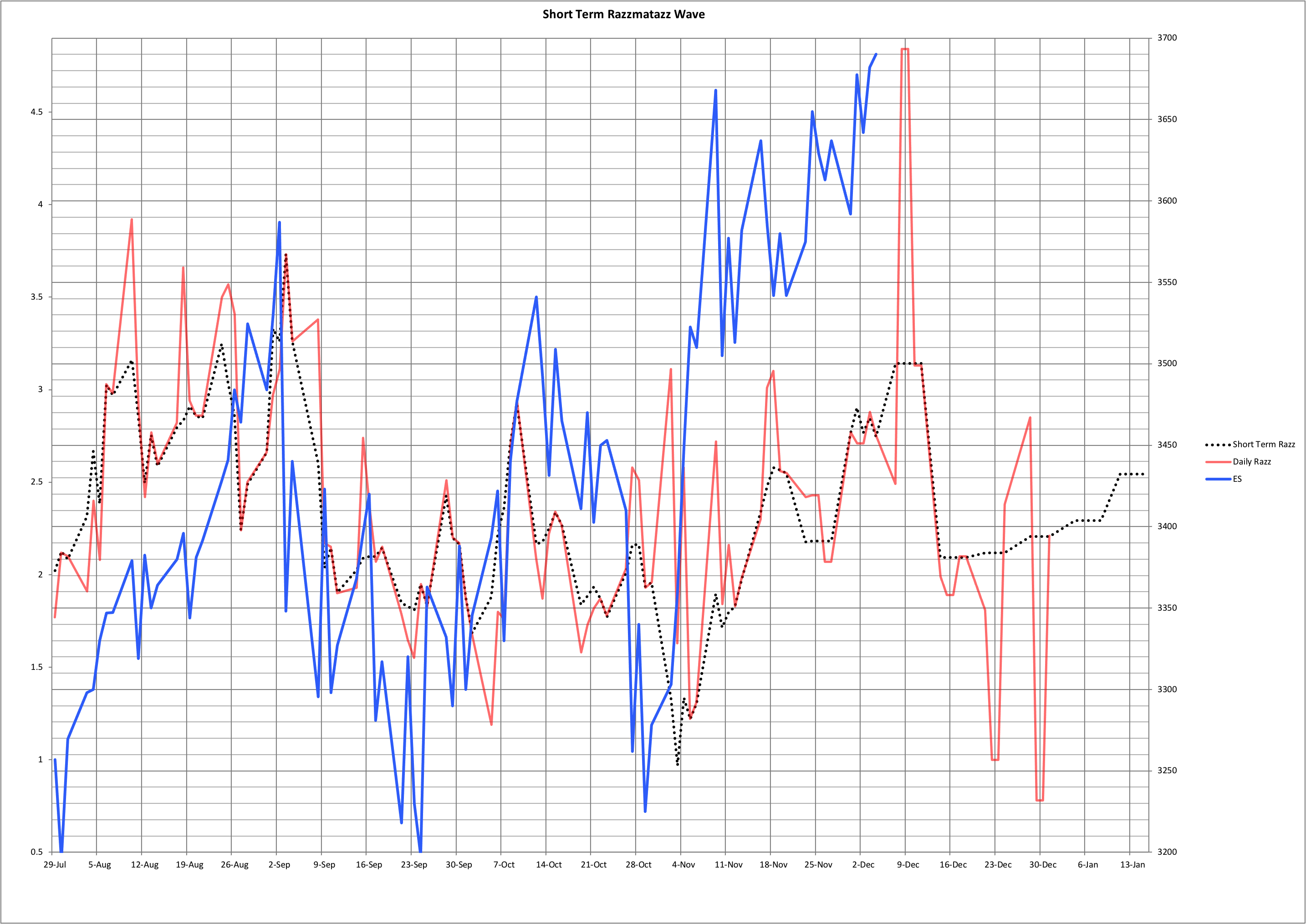 All the best to your trading week ahead.