Awaiting Clear Set-Up for a Trade
In last weekend's update, we noted: All of our Smart Money core indicator setups are on buy right now. Micro is on exit/sell. Market is clearly rallying on weaker internal strength. Usually these type of rallies fizzle out and market tests support to build more internal strength before moving back higher again. But we can also push higher through that 2950 number which forces internals to improve somewhat before we hit close to the 3000 mark. Should be open to either possibility here. On the upside 2947/50 is resistance. Clearing this will open up 2980-3000 area maybe a little higher - but if we get there, we should almost certainly get a bigger reaction lower as we have been getting once we hit big round numbers. On the downside, must hold support for the bulls is 2890-85 area. As long as this is held, bulls have the upper hand on the intermediate timeframe. I do not see a clear edge this weekend - but I think bulls have the upper hand and a move through 2950 should take us up closer to 3000 area.
What actually happened: We cleared the 2947-50 resistance and pushed higher until 2961 before the move fizzled out and fell hard. As I said last weekend, I did not see a clear edge. Even though we fell hard, we still managed to take support at 2900 area and push back higher on the week.
What next?
No clear edge last week. Unfortunately, this week is also the same. Our NYHL1M remains on buy but micro is on sell. So as I wrote above, we wait for a clear setup to get back in on a trade. My best read right now is supported by the razz and historical patterns: i.e., we get a top on Monday - lower high - and then pullback into Wednesday or Thursday in what we call the WWW effect. WWW is the Wednesday of the week before monthly OPEX week. And a lot of the time, we get a pullback into WWW which then sets up a rally into the week after i.e. monthly OPEX week. Whether this happens or not, I will wait for our Smart Money room indicators to tell us when to enter back in long… or to short the market. IF it is the latter, then it is going to take some more time.
ES Grey Zone areas: On the upside, we have resistance at 2955-62 and above this I don't have anything much until 2980 area. On the downside, first support is at 2937-31, then 2916-11, then 2900-2892.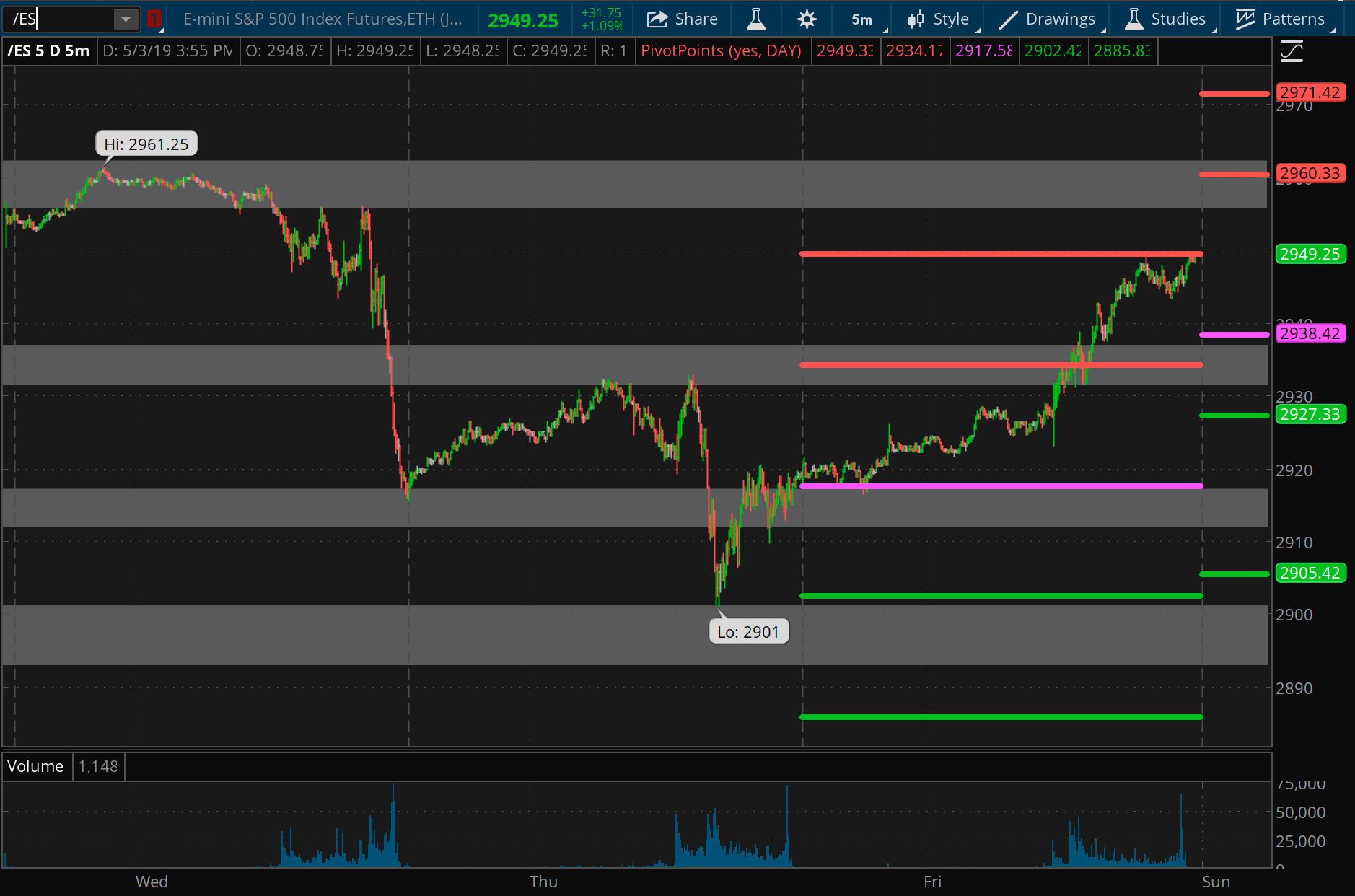 ES daily pivot is at 2938. Resistance R1 is at 2960 and R2 is at 2971. Support S1 is at 2927 and S2 is at 2905.
All the best to your trading week ahead.