Are World Markets Topping?
EUROPE/AMERICAS
DAX: After the initial gap down to start the week, the DAX Performance slowly climbed back up into Friday's close to end the week marginally positive. Therefore, price is at least trying to edge out one more high under the blue count as wave (v) of c to complete wave 3 into the 11465 target. However, I still can't view that outcome as clearly more likely that rolling back over from here as red wave c of 2 toward the 9760 – 9155 support below. As long as price is above 10585, we can give a slight advantage to the blue path, below there and the red count assumes control.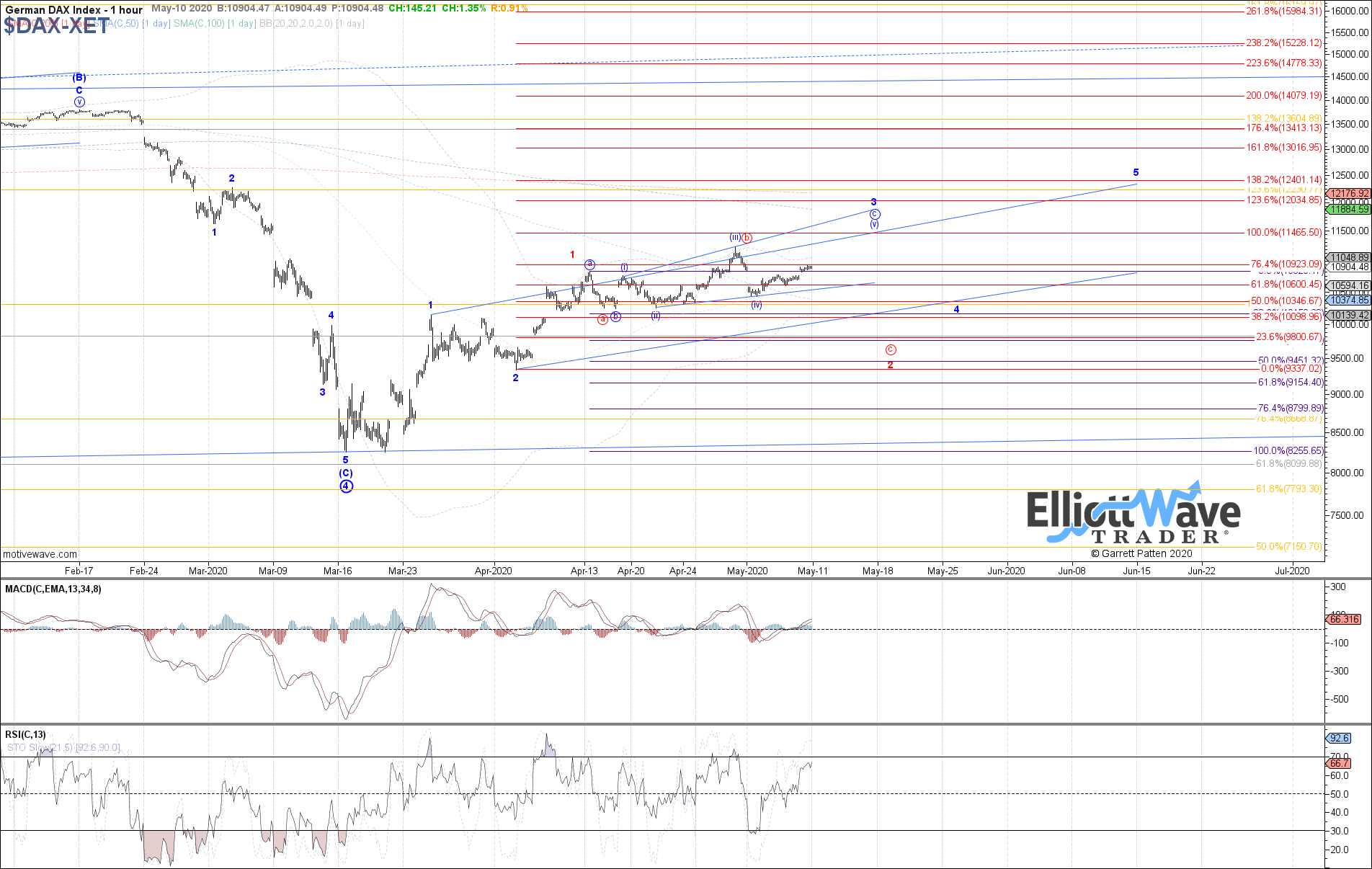 FTSE: The FTSE 100 slowly climbed higher last week as well, closing the gap from the previous week but otherwise still well below the prior April high. Therefore, it is still possible that price continues to climb higher from here, eventually reaching the 6280 fib target for blue wave (v) of c to complete wave 3 of the leading diagonal off the March low. However, I can't consider that as clearly more likely than the alternative, which is rolling back over again as red wave 2 toward the 5625 – 5335 target support below. Above 5835 and we can give a slight advantage to the blue path, below there and the red count assumes control.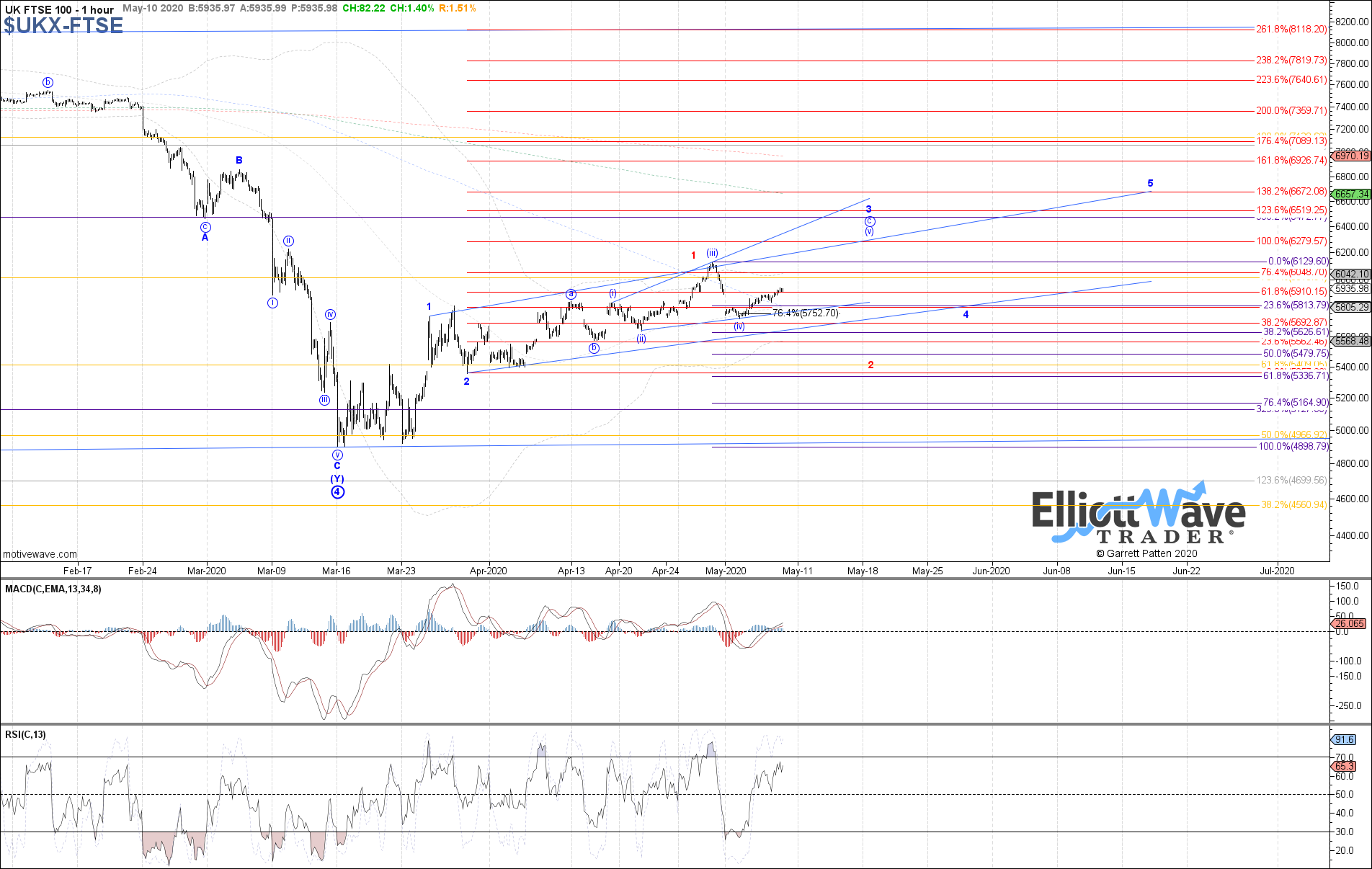 STOXX: The Euro STOXX 50 Index also spent last week recovering some of the previous week's drop, but like the FTSE is still far from exceeding the prior April high. If price does manage to continue climbing from here and does exceed the prior April high, then 3090 remains the ideal target for blue wave c of 3. Otherwise, odds are pretty much equal right now that price will roll over instead, filling out red wave c toward the 2690 – 2530 support region below.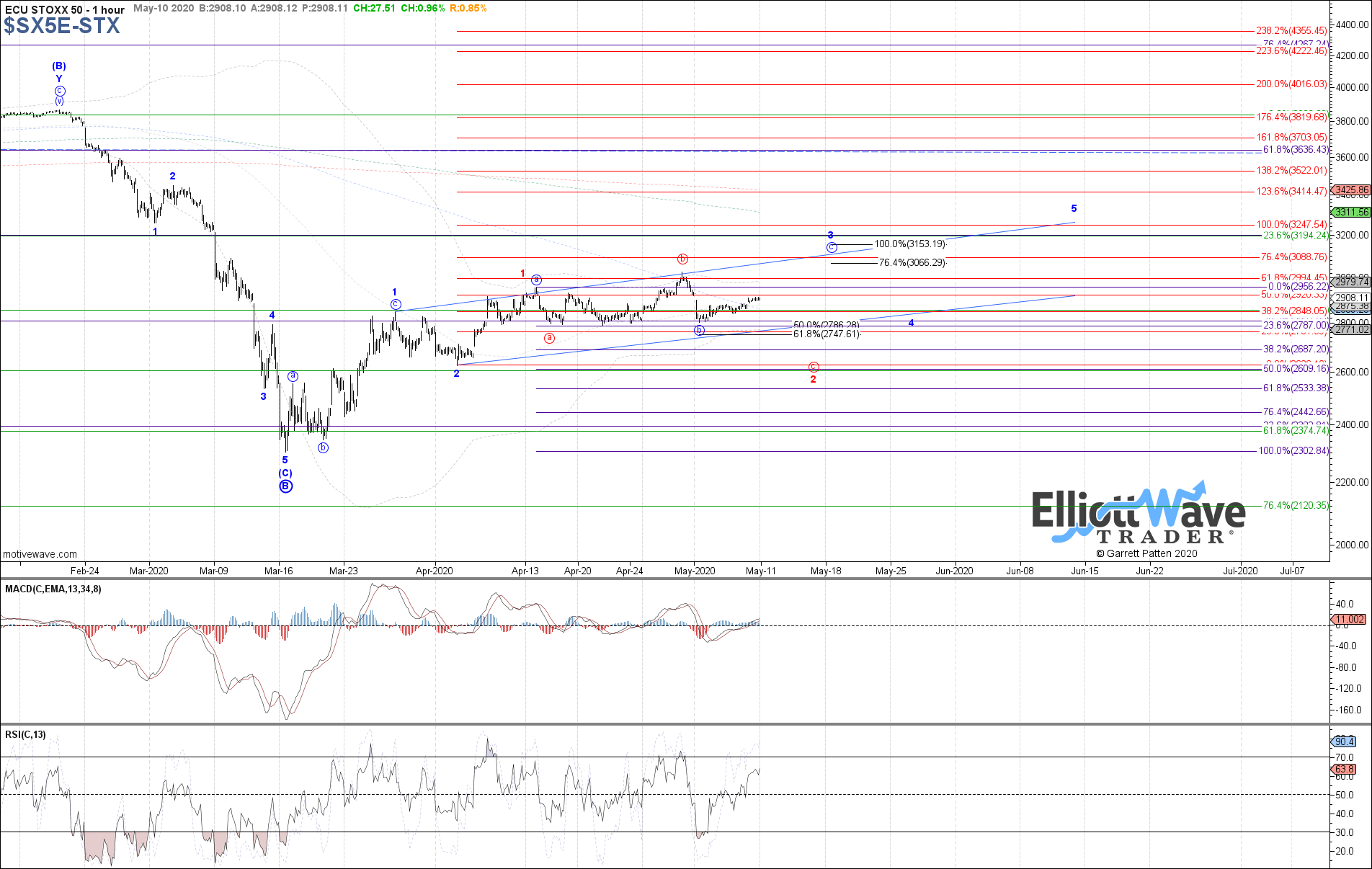 ASIA/PACIFIC
N225: The Nikkei 225 Index turned back up last week, recovering from the recent small pullback and now making another new high above the one at the end of April. Therefore, price appears to still be working on wave 3 of the leading diagonal off the March low, potentially trying to reach the original 21110 target before attempting a pull back again as wave 4. A break below 20050 is otherwise needed to suggest another local top in place and the start to a pullback as wave 4 sooner.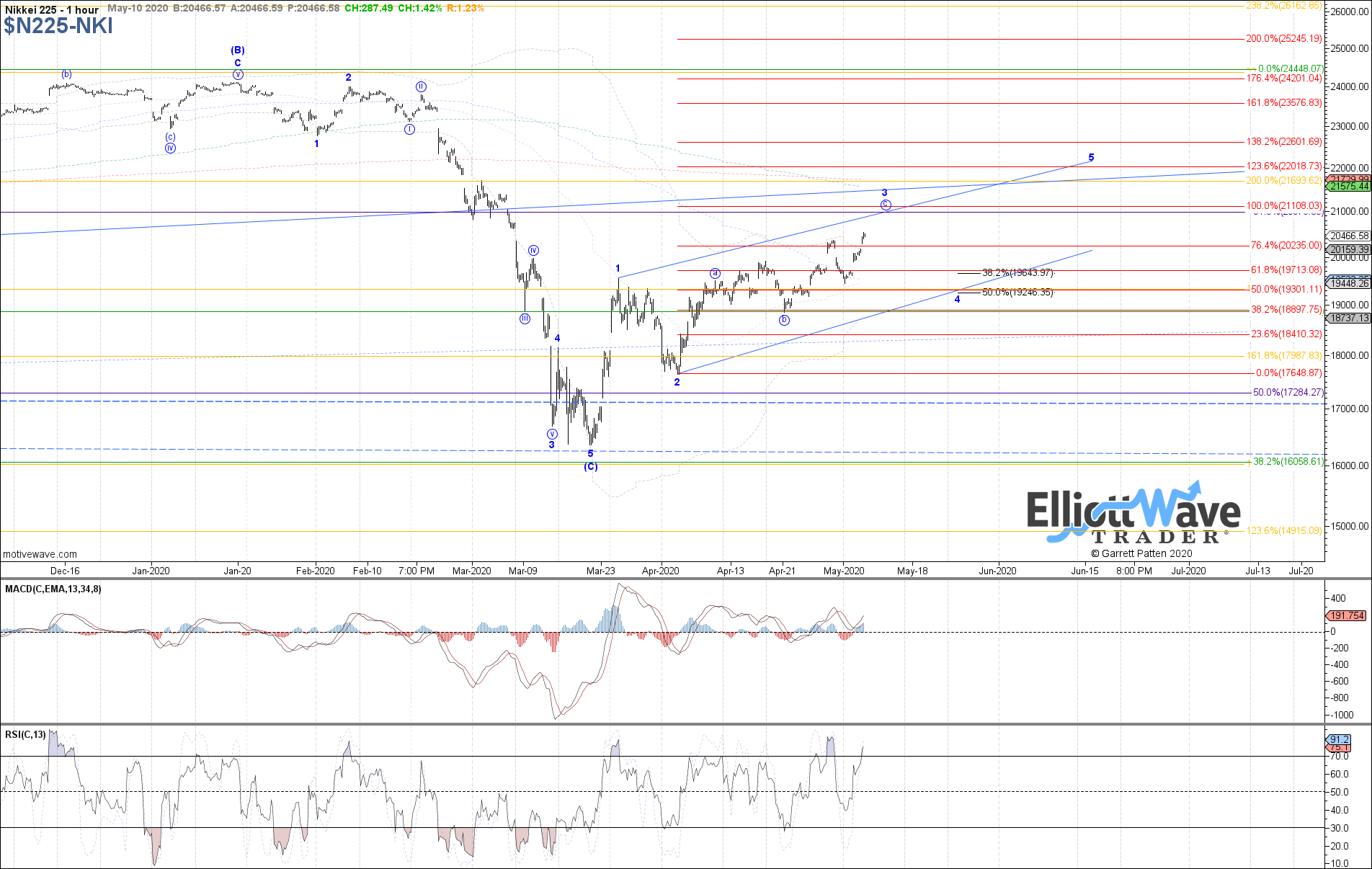 HSI: The Hang Seng Index spent last week recovering from the gap down from the previous week, now back near the prior April highs. Therefore, it looks easily possible that a corrective flat as either blue wave b of 4 or red wave 2 has complete, with price targeting at least 25800 next as blue wave c of 4. Until a sustained breakout above the prior April highs is seen, technically a triangle is still possible for blue wave b of 4, allowing for price to fade back down again, but otherwise remaining above last week's low.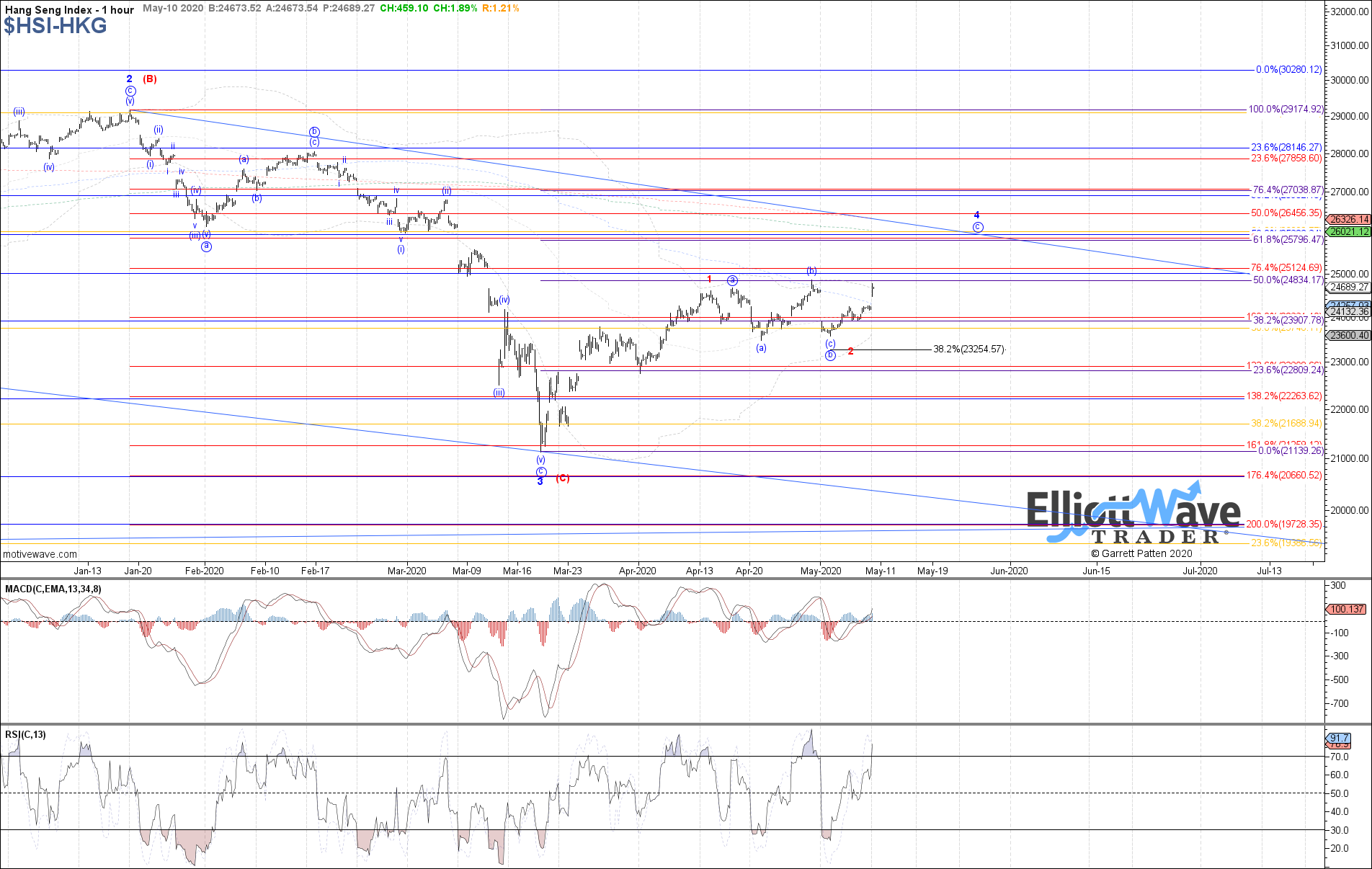 SSEC: The Shanghai Composite Index continued to trade higher last week, still following the red path as a potential leading diagonal up from the March low in progress. Price is now just a stone's throw away from the 2920 target cited for red wave (c) of iii, which once complete can setup a corrective pullback as red wave iv next with 2845 as initial target support. A break below 2865 is our indication of a local top likely in place.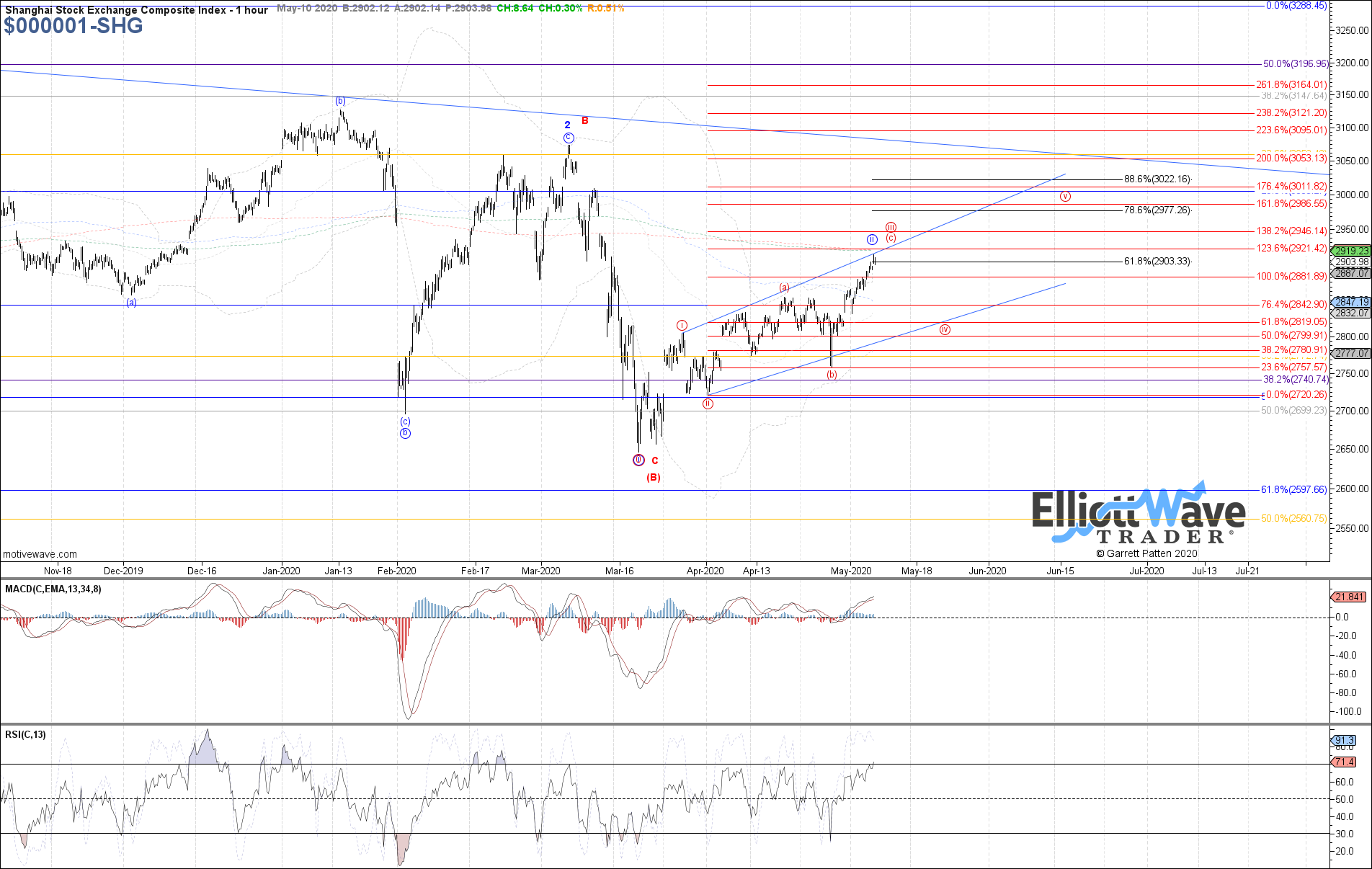 NIFTY: The Nifty 50 Index started off initially lower last week, increasing odds that price has already started a corrective pullback as blue wave 4 of the leading diagonal off the March low. Price attempted a modest bounce into Friday's close, likely filling out wave b of 4. There remains room for more near-term upside as wave b of 4 if needed, with the .618 retrace at 9585 as main resistance above. Otherwise, below last week's low signals wave c of 4 in progress, with 8835 as the ideal target support.