Market Analysis for Oct 30th, 2020
Liquidity Update
During the worst part of March, I began a series of liquidity updates to provide info about forced selling pressure on assets (stocks, bonds, gold, etc). Due to the global USD shortage, margin pressure, and other things, there were clear signs of forced selling pressure back then. It was bad enough not only to affect stocks, but also gold and long-duration Treasuries (and for Treasuries, that's very rare). 
I reduced those updates as liquidity became more abundant. 
This week, however, renewed some (but not all) of the issues. With another wave of COVID including some lockdowns in Europe and certain parts of the US, as well as lack of stimulus, there are cracks starting to emerge in the financial system again. 
October 28 was the first day since March where the S&P 500 was down at least 3.5% while gold and long-duration Treasuries also lost money. Stocks down sharply, gold down, bonds down (yields up), dollar up. That's a liquidation sale, rather than a normal risk-off/deflation trade (which would be stocks down, yields down). 
In fact, for this week, we indeed saw SPY down, GLD down, and TLT down. So it was a mild liquidation week. A mild version of what hasn't been seen since March. 
There were some other issues as well. The 7-year treasury auction went poorly yesterday. A bad bid-to-cover ratio, a jump in yields, and primary dealers having to take a lot of it. 
Basically, there are signs that the Treasury market is oversupplied- too many Treasuries vs how much demand exists. Most likely, the Fed will end up having to announce that they are increasing their Treasury purchase rate at some point (although they are still buying like $80B/month already). 
However, unlike march, the Treasury/Eurodollar spread remains low, so there isn't much forced foreign selling pressure.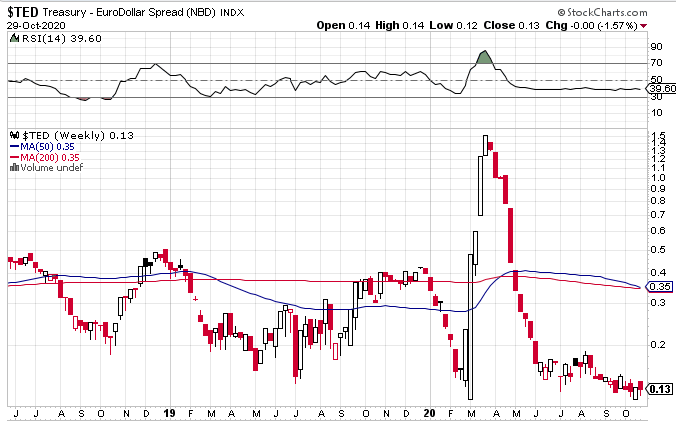 On the other hand, Q3 data showed that foreign central banks sold gold for the first time in a long time. That is somewhat of a sign of offshore USD shortage from places like Turkey. 
And for what it's worth, the S&P 500 as priced in gold (represented as the SPY-to-GLD ratio) broke down out of a multi-month upward trend: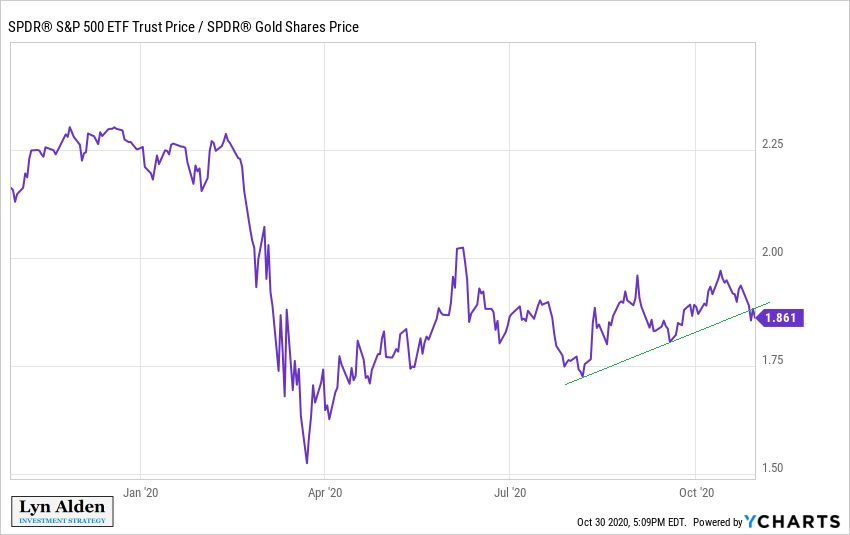 I expect, as a base case, for the S&P 500 as priced in gold to make lower lows than March, in the year ahead. Some degree of stock stagnation, and another leg up in gold, could result in that outcome.