The Grind Continues - Market Analysis for Oct 5th, 2017
The market continued its relentless climb higher today, now reaching the next micro fib resistance at 2551 SPX. Price has still shown no indication of a local top, and until some support breaks may climb even further. However, the slope of this ascent is typically not very sustainable without at least some consolidative action in interim, so it is reasonable to expect some chop even if the uptrend continues.
At this point, I think taking a step back to look at the daily chart is prudent, since it gives context to the seemingly unending upside. On our site, we entertained a target of 2575 SPX all the way back in November for minor degree wave 3 of the impulsive structure that began from the 2016 low.
This target comes from the fib extensions (shown in red) measured using the initial 1-2 structure at minor degree off the 2016 low at minor degree and applying Fibonacci Pinball. When a wave i of 3 reaches the .618 extension, typically wave iii of 3 will reach the 1.236 extension. After reaching the 1.236 extension for wave iii of 3 and holding support for a wave iv of 3, wave v of 3 will typically target the 1.618 extension.
That is how we were able to identify 2575 SPX as a potential target back in November using the help of Fib Pinball, even before this overall rally begin. It now seems clear that the market is putting in its best effort to stretch all the way and reach this fib before minor degree wave 3 completes. Therefore, another 25 points looks reasonable before any significant top.
Near-term though, the price structure suggests that we are approaching another local top, ideally between here and 2560 SPX. If seen, then it can setup one more 4th and 5th wave in order to reach the larger 1.618 extension target at 2575 SPX. Support for wave iv under this path should be between 2526 and 2510, so as long as we are holding that region, further upside can be seen.
$SPX - Micro - Oct-05 1229 PM (1 hour)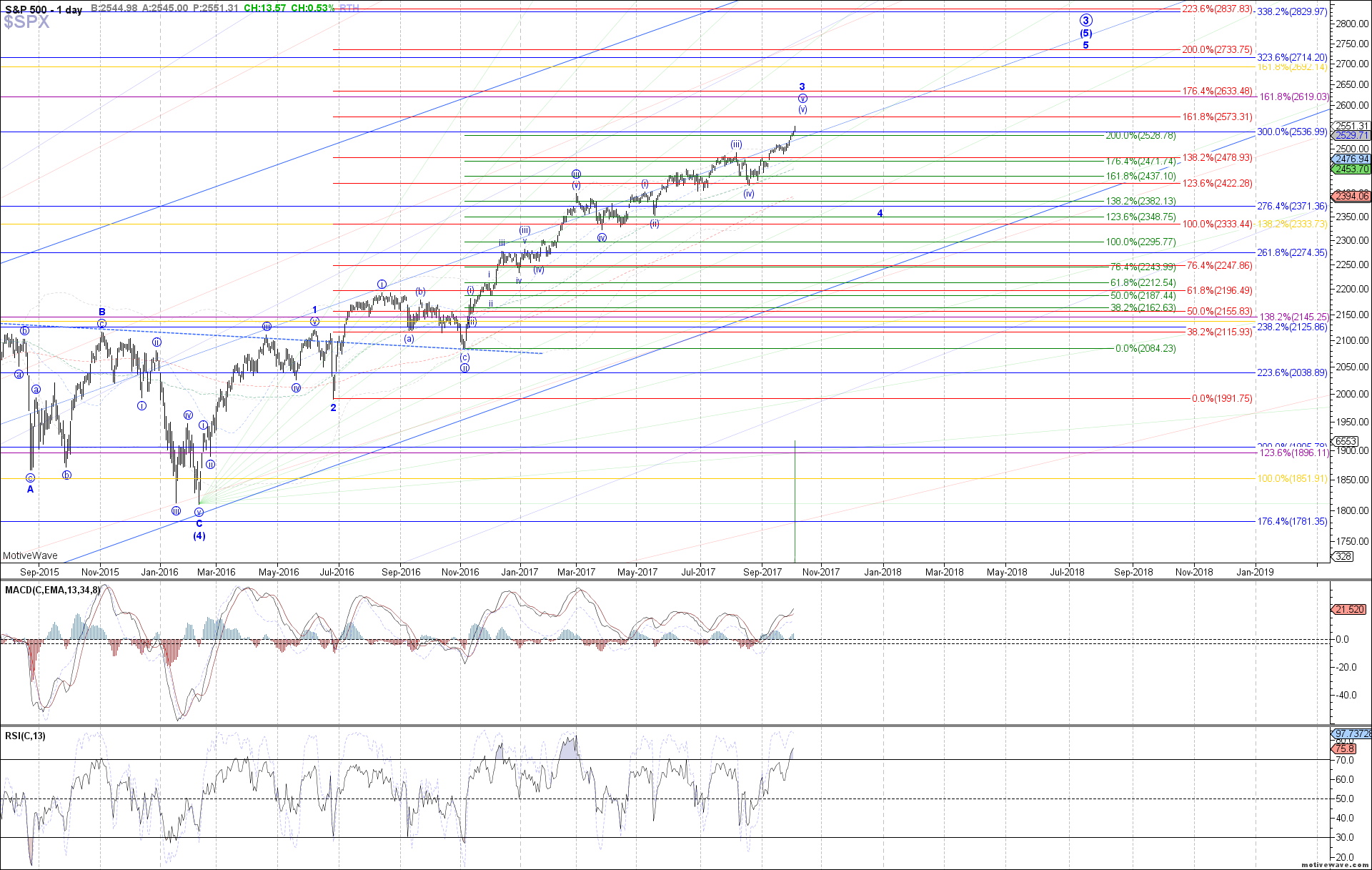 $SPX - Primary Analysis - Oct-05 1219 PM (1 day)