Local top approaching - Market Analysis for Jul 16th, 2015
It's been a wild ride this week, with equity markets tacking on even more gains today, carrying the SPX over the .764 retrace off the decline off the April high, and price now approaching the June high. This price action is truly a change in character compared to last week, when it seemed like bulls were dead in the water. While our expectation going into this week was for a sizable rally, the actual result has definitely exceeded initial expectations.
However, after a run like this, a period of rest is needed, even if we are in the bullish blue count that will eventually take price to a new swing high this year. My position since the start of the month has been clear, if price could not exceed 2100 on this rally, the red count would remain more probable as the start of primary wave 4 already. However, if price were able to clear 2100, which it did and then some, probabilities would start to shift back in favor of the bullish blue count. Therefore, my expectation is that this next pullback will be corrective, as wave b of 5 in the blue count, setting up a new swing high for August or September.
That said, I think the pullback in blue wave b of 5 can be sizable, retracing roughly 50% of this rally off last week's low. If seen, this would fill out a nice right shoulder of an inverse head & shoulders pattern, to help propel price to new highs on the next leg up. Exact support for blue wave b of 5 will depend on where wave a tops, but I am currently estimating roughly 2090 - 2080 SPX.
At this point, it would take either a clear 5 wave decline off this next high, or a break below the .618 retrace of this week's rally (we will now the exact calculation for that soon enough), in order for my expectations to move back in favor of the bearish red count.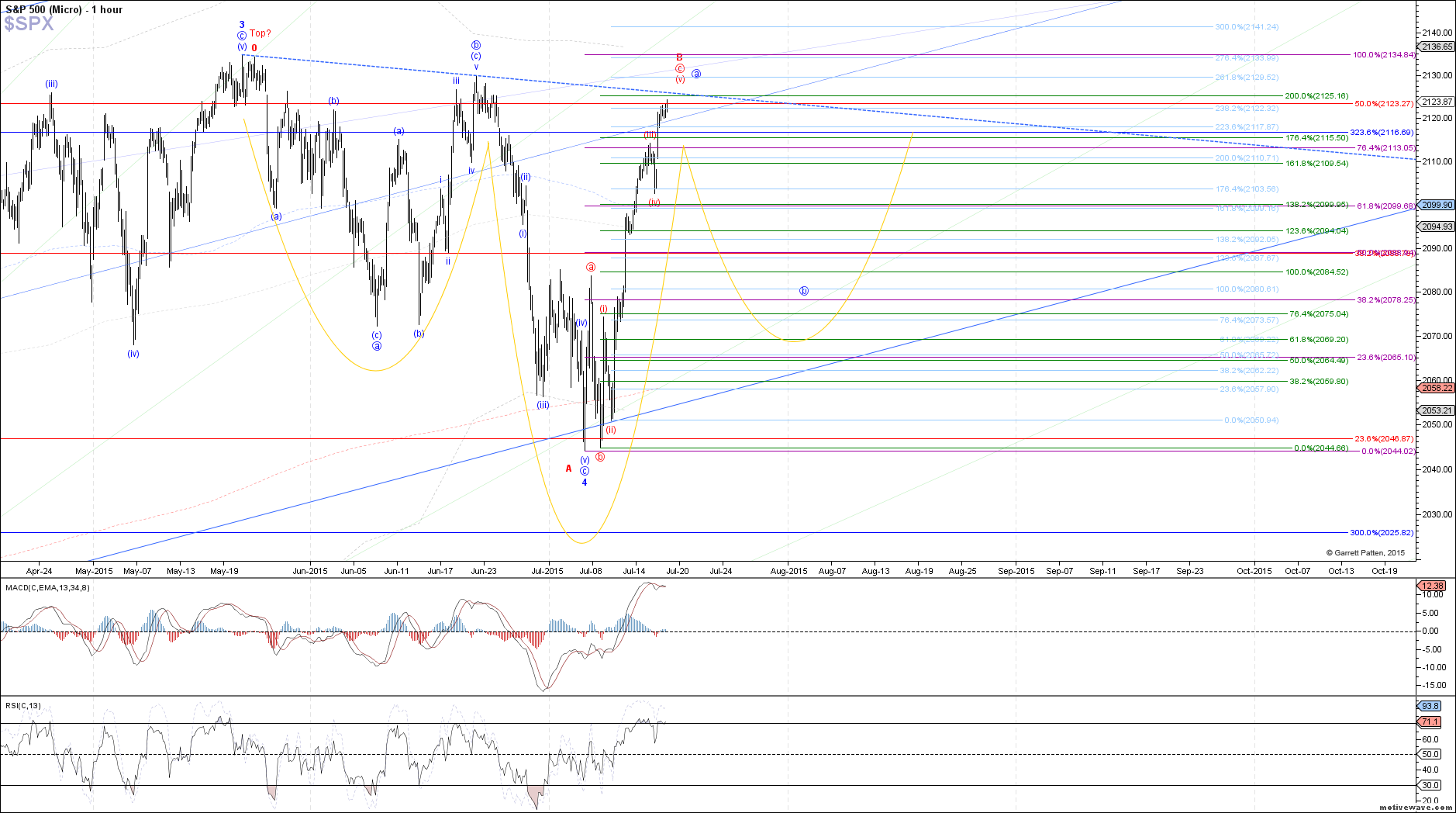 $SPX - Micro - Jul-16 1352 PM (1 hour)