Bull/bear battleground - Market Analysis for Aug 19th, 2015
Sincere apologies everyone for the site outage this afternoon and subsequent delay of the market update. Perfect timing too during one of the more active days in the market this month

. Today was a wild ride for intraday swings, starting off with a 20 point drop into today's low, followed by a 27 point rally into today's high that was then mostly faded again into the close. The takeaway I believe is that both bulls and bears are fighting for the upper-hand in this region, but neither team is willing to rollover just yet. However, with the break below Monday's low this morning, we must respect the potential presented by the bearish red count, and the possibility for a breakdown from here unless bulls can push the market back above Monday's high.
I would be more willing to throw in the towel for the bullish blue count if price had been able to complete a clean 5 waves down from Monday's high. While it is possible to interpret this drop as 5 down on the cash chart (SPX), the futures chart (ES) really only looks like 3 waves down, and both charts would have been more convincing with another 4th and 5th wave down that we never got. Still, if price continues lower from here to take out today's low, followed by a break below the .764 retrace at 2064 SPX, odds of continuing straight down to 2043.50 - 2038.75 next as red wave iii of C increase dramatically.
On the other hand, if price manages to hold today's low, and climb back above Monday's high from here, it is still possible to come up with a bullish count that would allow for one more high this year. That path would be the same c-wave of 5 in the ending diagonal structure off the October low, but rather than a standard impulse c-wave, it now has to count as an ending diagonal c-wave for the blue count. That means that each of the subwaves within wave c of 5 would break down into 3-wave moves, still taking us to a new high, but in a much choppier and unpredictable fashion. However, as noted, it is difficult to place much confidence behind this count until price can reclaim Monday's high at 2103.50 SPX.
Therefore, the important levels to give one count a significant edge over the other are 2103.50 SPX and 2064 SPX. Above resistance and we can consider bulls back in control, looking for the May high to be tested next in blue wave (iii) of 5. Otherwise, a sustained break below 2064 SPX places odds in favor of the bearish red count, which will likely take price down to ~2040 SPX next and eventually down to ~2025 SPX before the next sizable bounce.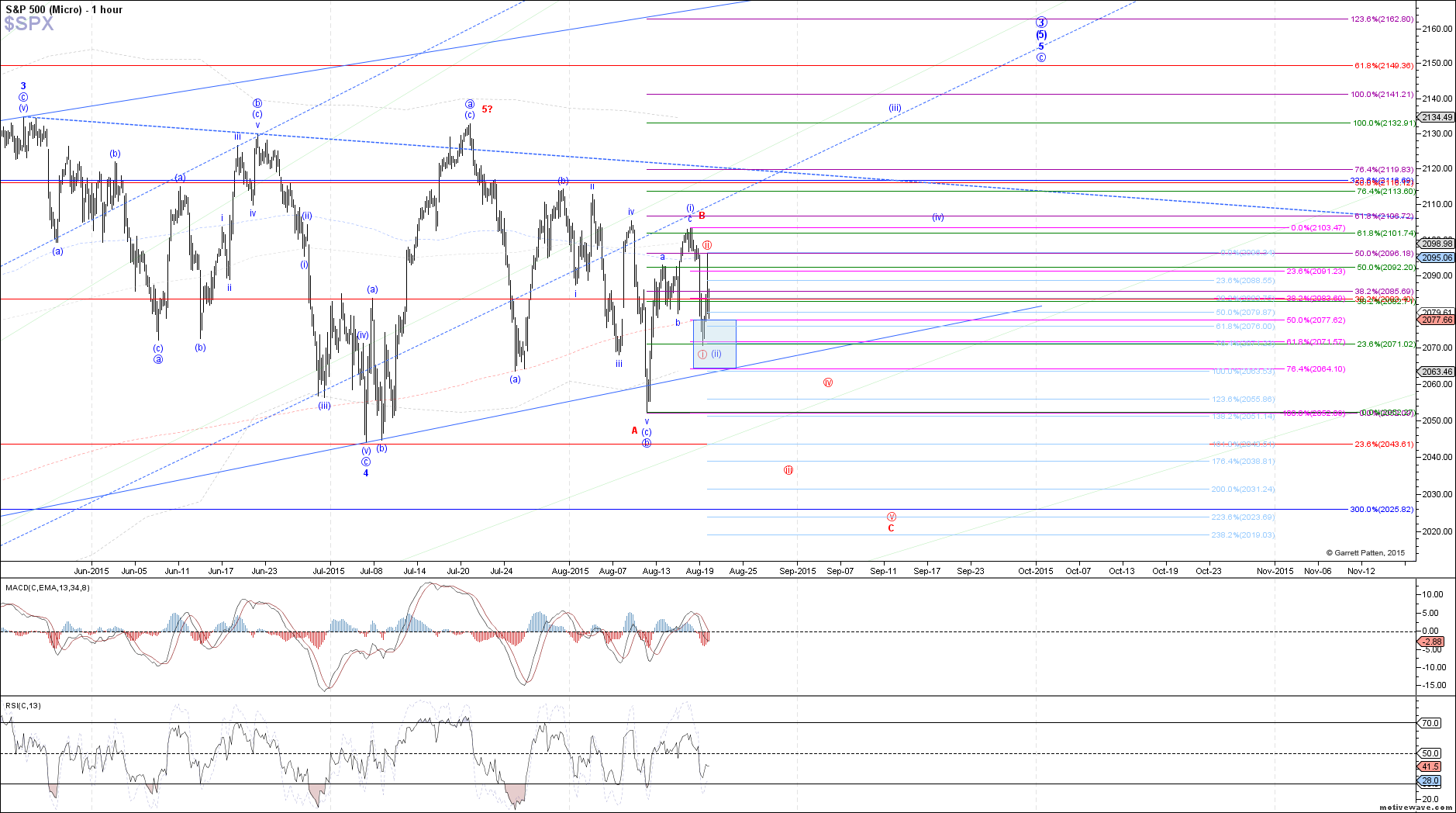 $SPX - Micro - Aug-19 1841 PM (1 hour)